Your Baby Boomer audience already trusts you, your job is to convince them why they should respond to you.
In previous blogs we explored the relationships that Gen Z, Millennials and Gen X have with direct mail and which Tension products might be best for each key demographic. Baby Boomers have seen a lot in their lifetimes and have grown accustomed to adapting as they go. This generation has been receiving direct mail for many years, so it makes sense that their connection to this medium is strong. In this post we explore the most effective ways to connect with Baby Boomers, the generation that trusts direct mail more than all the others.
Although relatively conventional, Baby Boomers are a confident bunch who do not shy away from the next thing. Many Baby Boomers are nearing or in retirement, meaning their attention and considerable purchasing power are excellent prospects for marketing efforts that right approach.
Who are Baby Boomers?
69 million Baby Boomers
Between the ages of 59 and 77 in 2023
Born between 1946 and 1964
Most are almost or already retired and have time and purchasing power
Baby Boomers Trust Direct Mail
More than any other generation, Baby Boomers trust and prefer direct mail for receiving promotions and other communications. Many are used to getting important correspondence like bills and account statements in their mailboxes, so this touchpoint has their full attention. And it's true Baby Boomers are less familiar with the digital landscape than younger generations, but they have a healthy appetite for innovation if it follows a few key tenets.
Design Your Mailpiece for Baby Boomers
Baby boomers like direct language, good deals and can sense quality. Whether you're reaching this generation with a direct mail piece or on a digital platform, you'll want to use bold, eye-catching designs and make sure messaging is concise. Select stocks and finishes that communicate the value of your brand to this discerning and more traditional group. Regardless of what your direct mail package includes, or where it leads the recipient, quality materials are important to this generation.
Incorporating Digital
If you choose to incorporate digital innovations into your direct mail campaign, an easy-to-use QR Code with a clear call to action (CTA) prompts your audience to perform
a specific action (click on a link, fill out a form, etc.). Baby Boomers appreciate direct attention, so a personalized URL (PURL) leading to what will feel like a tailored web page, especially if an exclusive offer is included, is likely to hit the right note.
Tension Products for Baby Boomers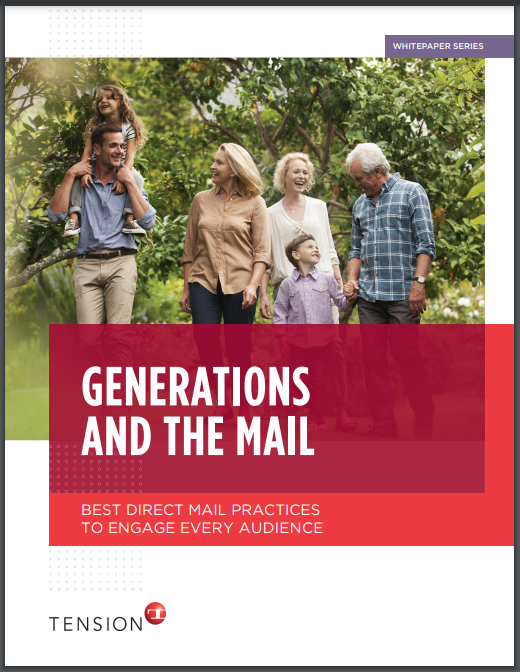 Download Our White Paper
Download our "Generations in the Mail" white paper for an in-depth look at the relationship each generation has with direct mail.
Get Started with a Tension Expert
Stay tuned for future blogs with insights on the other key generational demographics. Contact one of our experts today to get started.
A global leader in envelope, printed product, packaging and packaging automation solutions, the Tension Corporation is a privately held and operated company based in Kansas City, Missouri. Tension manufactures billions of envelopes annually and their envelope and printed products division serves a variety of industries, including third-party billing, financial, insurance and direct marketing. The packaging and automation division of Tension provides software, consumables, automation and service and support for fulfillment to the e-commerce and pharmaceutical industries.