Entice and Engage Customers with Your Direct Mail Envelope
Did you know the success of your next direct mail campaign hinges on the outer envelope? Your envelope is your first line of communication with potential customers. Think of it as a salesperson's handshake or the display window in a store. Your envelope introduces who you are and what you are about while encouraging customers to want to know more. It starts selling before you do.
Learn more about our direct mail services here.
Art and Science to the Outer Envelope
There is an art and science to enticing recipients to open and respond to your direct mail piece. A custom Tension envelope can help you create a positive first impression.
The Science of Eye Tracking
Research shows that the eye goes to four hot spots on an envelope. Using these hot spots can improve your direct mail impact:
1. Mailing address – Recipients look to see if the envelope is addressed to them and if the name is spelled correctly.
2. Area immediately to the left of the mailing address – Teaser copy or special offers can pique interest.
3. Return address – Allows the recipient to evaluate whether or not the sender is of interest to them.
4. Postage area – Recipients often gauge a mailer's importance by postage type.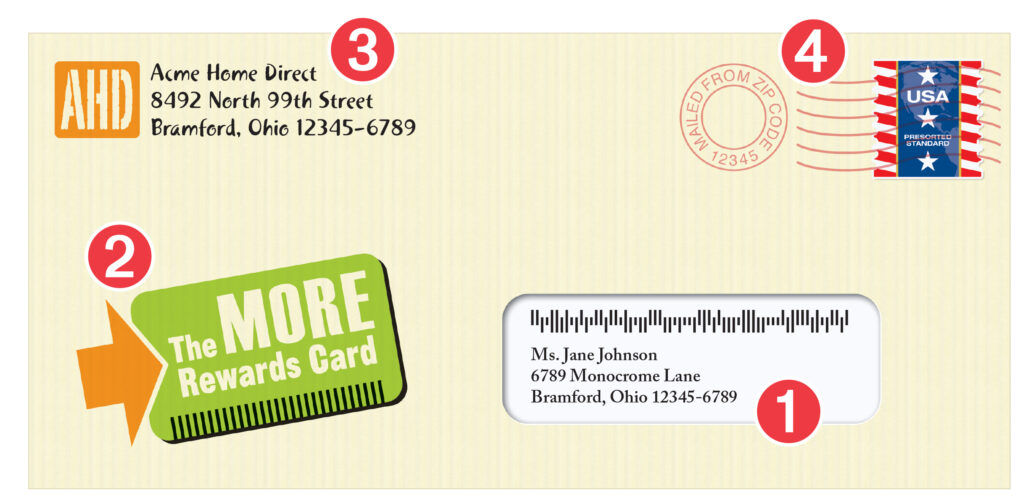 The Science: The 3:33 Rule
Science shows you have three minutes and 33 seconds to convince someone to open and respond to your mailing:

Three seconds or less for your envelope to stand out in the mail and stay out of the trash
Thirty seconds to engage the reader enough to get your envelope opened
Three minutes or less for the reader to review the envelope's contents and respond
The Art of Design
Tension has a multitude of creative design elements that shout, lure, entice and bring the respondent inside, helping drive higher response rates.
Unusual Sizes/Shapes – A unique envelope size or shape will stand out and get noticed.
Papers – Different paper weights and textures attract visual and tactile attention.
Color – A colorful envelope can add a lift in response for minimal cost. Take advantage of Tension's award-winning flexographic printing capabilities to maximize your graphics. Don't forget to include the back of the envelope as a "billboard" to reinforce your message.
Involvement Devices – Unusual opening devices entice the recipient to see what is inside. Zip strip perforations, pull-off stickers or detachable sticky notes create anticipation and hold the reader's attention.
Creative Graphics – Tension Design Group can work with your marketing department or ad agency to assist in the design process or create original artwork.
Animation – Create a multisensory experience by adding a QR code or Augmented Reality image to make your mail piece come to life.
Eco – Make your mark on the greener side using

SFI

®

or

FSC

®

certified papers and wind credits for manufacturing your products. Tension provides all these options and more, including two-way reusable envelopes.
For more information on creating successful direct mail envelopes, download our white paper or contact us to learn how Tension can help you create a direct mail piece that is eye-catching and intriguing enough to get opened.