Driving Continuous Improvement with Lean Sigma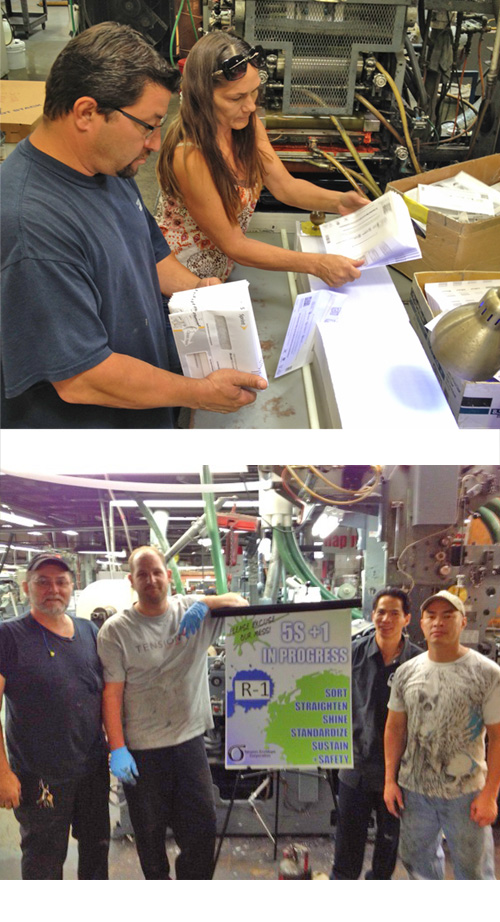 High performing envelopes demand precision. Each time, every time. Whether it's manufactured in Fort Worth, Texas, or South Hackensack, New Jersey, a Tension envelope is manufactured to the same consistent standards of quality and performance.
That level of consistency doesn't happen by accident. In the mid-2000s Tension began integrating Lean Sigma into its operations. Lean Sigma is a process of Continuous Improvement used in manufacturing environments. It focuses on cost control, quality, and repeatable processes, ultimately creating the best possible product.
Today, we like to say Continuous Improvement is in our blood, or even our DNA. It's how we approach new products, improve existing products and communicate with one another. Continuous Improvement initiatives touch everyone throughout the company at all of our envelope manufacturing plants and offices. It is a "bottom-up way of solving problems" that empowers every associate to improve the business.
Empowering Associates to Enhance the Customer Experience
In nearly all locations, Tension has experts trained in Continuous Improvement and its methods. These experts, or "black belts," facilitate improvement efforts. They coach, mentor and lead improvement teams, and ensure that improvements are embedded within the organization. With a number of tools at their disposal, Tension's black belts pull together teams of subject matter experts to address an opportunity.
Tension's black belts specifically look for ideas to improve safety, quality, waste, efficiency and productivity. It is not uncommon that an improvement initiative is born from customer feedback or a Tension Associate. Opportunities are identified that not only improve internal operations, but can also reflect improved products and services for our customers.
Once an opportunity is identified, our black belts mobilize a team of subject matter experts from multiple locations to develop a solution. From shop floor operators to vice presidents, solutions are generated by the Tension associates with the most knowledge of the current process. Black belts lead the team when developing a solution, and stay on project to ensure that the new processes are enacted and leadership has been trained to ensure that the change has lasting impact.
There is a wide range of Continuous Improvement tools used to improve the customer experience or internal processes. Some of these include Kaizen, 5S and Visual factory, DMAIC (Define, measure, analyze, improve, control) and A3 problem solving.
Spotlight on Kaizen
Kaizen, a Japanese word that translates to "change for the better," is a rapid improvement event, which brings together subject matter experts to improve upon an issue or a process. Kaizens follow a structured, proven methodology. And often, the Kaizen event starts with an idea from a Tension associate or customer.
While a Kaizen is a multi-day event with a definite beginning and ending, its results are ongoing. The outcomes of a Kaizen yield new procedures, guidelines and even mindsets. Then the new processes are integrated into ongoing operations driving change and improvements. Every year, Tension holds numerous Kaizen events at individual plants. Previous events have addressed standard operating procedures, waste reduction and turnaround times.
Continuous Improvement as a Mindset
Continuous Improvement is a constant and mindful practice requiring the involvement of all associates. It allows us to respond to changing markets and customer needs. Tension's ability to adapt ensures we best meet changes in the industry and your evolving requirements, as well as create opportunities to develop and grow our associates.