Striking an Emotional Connection is the Best Way to Win Over Gen Z.
The four generations that have the most buying power are generation Z, millennials, generation X and baby boomers. These generations each have a different response to and feelings about direct mail. In this blog, we will focus our attention on gen Z and their relationship with direct mail.
When it comes to marketing to generation Z, the quick assumption may be to go all in on digital communications, but the reality is more complex. Generation Z finds genuine delight in direct mail pieces that deliver a more personal, tangible experience. Direct mail marketers need to be inventive if they are to effectively engage them. Those who are successful have much to gain as this generation's purchasing power will only grow from here. To begin, let's get familiar with these savvy and creative consumers.
Who is Gen Z?
67 million gen Z'ers in the United States
Between the ages of 11 and 26 in 2023
Born between 1997 and 2012
Approaching or just beginning adulthood, making this a great time to establish a lasting connection
Get Gen Z's Attention with Direct Mail
Generation Z spends a great deal of time in front of screens. They are exposed to a lot each day. As such, this generation can be more difficult to impress, but they want to be wowed. Generation Z reports feeling excited about what the mail will bring. Direct mail marketers can leverage these emotionally charged expectations by delivering compelling sensory experiences.
Design is a Major Factor
Due to their fleeting attention, gen Zers tend to judge a book by its cover. Make sure your first impression is a powerful one. Current, on-trend aesthetics are important, as are bold colors, distinct branding and premium materials. Well-designed and imaginative direct mail pieces will offer a fresh experience for an always-online audience. Digital innovations can complement these pieces, but they should have a straightforward call-to-action (CTA) for direct online access and avoid marketing gimmicks and lingo.
Utilize Promotions and Be Authentic
Members of generation Z are inundated with content throughout the day. Whether you're sending promotions in the mail or online, don't make them guess. Keep offers prominent and to the point. If you try to reel in gen Zers with generic marketing lingo, they'll tune you out. If, however, you can make the connection feel special, you'll be doing yourself a major favor. Generation Z cherishes personalization and authenticity. Typically, well-targeted and exclusive deals, personalized correspondence and Personal or Personalized URLs (PURLs) work with this audience.
Be Ethical and Promote Sustainability
As with other younger generations, ethical practices and conservation matter. Try to use sustainable materials and mention your commitment to the environment on your packaging.
Tension Products for Generation Z
Generation Z is a deeply creative group with short attention spans, so as mentioned earlier, using premium materials, smart branding and clear messaging to make a powerful first impression can really help engage this generation. Here are a few products from Tension that could help garner gen Zers coveted attention.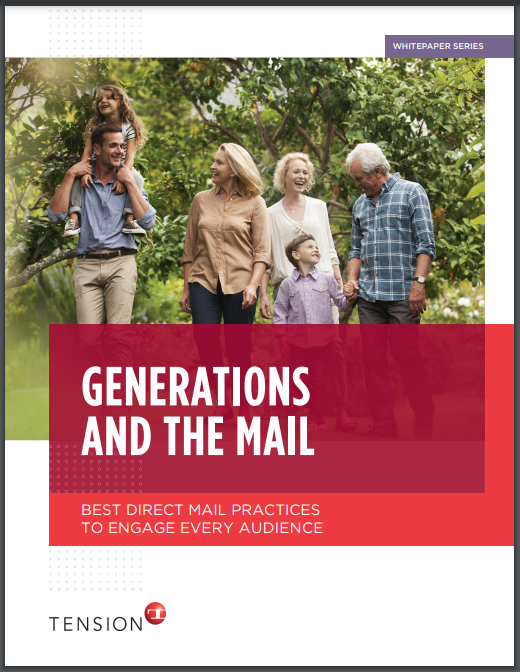 Download Our White Paper
Download our "Generations in the Mail" white paper for an in-depth look at the relationships that each generation has with direct mail.
Get Started with a Tension Expert
Stay tuned for future blogs with insights on the other key generational demographics. Contact one of our experts today to get started.
A global leader in envelope, printed product, packaging and packaging automation solutions, the Tension Corporation is a privately held and operated company based in Kansas City, Missouri. Tension manufactures billions of envelopes annually and their envelope and printed products division serves a variety of industries, including third-party billing, financial, insurance and direct marketing. The packaging and automation division of Tension provides software, consumables, automation and service and support for fulfillment to the e-commerce and pharmaceutical industries.