Direct Mail with Integrity and Authenticity Earns Millennials' Loyalty
In our first blog covering the four major generations, we focused on the perceptions that generation Z has of direct mail. In this blog, we will focus our attention on Millennials and their relationship with direct mail.
Millennials grew up alongside technology that has reshaped our world — and amid considerable financial and political unrest. As a result, earning their trust requires a more nuanced approach and a bit of sensitivity. Although this may take more work upfront, it can pay dividends over time. They enjoy in-person, tangible experiences but also appreciate the convenience of online communications. Marketers need to be able to be able to marry digital and print to effectively reach America's largest living population.
Who are Millennials?
72 million millennials
Between the ages of 27 and 42 in 2023
Born between 1981 and 1996
Ethics and authenticity are important to this generation
Earn the Fierce Loyalty of Millennials
Millennials are loyal. When they find products they like or a mission they believe in, they stick with it and encourage others to get on board. One report revealed that 50.5% of millennials claim "extreme loyalty" to their brands. And while all generations display a degree of allegiance through their spending habits, millennials are unique in that they also demonstrate theirs by promoting products through word-of-mouth. After receiving a direct mailpiece, 36% of millennials surveyed shared the information with someone else, compared to just 23% of recipients across generations. So, take care in developing content that resonates with this audience, and you'll be well on your way to a long and fruitful partnership.
How to Engage with Millennials
Utilize Digital and Print with Millennials
Although they are comfortable with digital innovations, millennials have a healthy appetite for printed materials and in-person experiences. For instance, nearly 100% of millennials use the internet, and they are more likely than other generations to act on a direct mail incentive. This dichotomy holds remarkable value, while also challenging marketers to provide a rich multichannel approach, meeting millennials across platforms and throughout the customer journey. The transition to digital should be easy with this group. Millennials are highly aware of digital innovations and enjoy self-service experiences. For instance, they prefer receiving promotions via email or an app, accessed when and how they like.
Be Sustainable and Be Authentic
More so than older generations, millennials place emphasis on a brand's ethics and authenticity. They want to feel like the companies they support care about leaving the world a better place. This should be communicated from a brand's mission statement, all the way to the envelopes it uses. When it comes to direct mail pieces, choose sustainable products, and don't overdo it. Millennials tend to trust and respect brands that send relevant, targeted communications. Consider limiting direct mail frequency. Perhaps even look at it more as a vehicle to send millennial customers online. With fewer print materials, they may perceive your brand as less wasteful. Consider less-frequent, high-quality direct mail communications.
Design with Millennials in Mind
When you do engage millennials via direct mail, take care in your design. They respond well to high-quality materials and have an eye for aesthetics. Make sure your piece is current and distinct. If you can, try to adopt a more soothing and approachable look and conversational tone to avoid potentially unpleasant emotional responses. Consider incorporating different digital innovations such as QR Codes, PURLs and virtual/augmented reality on your direct mailpiece.
Tension Products for Millennials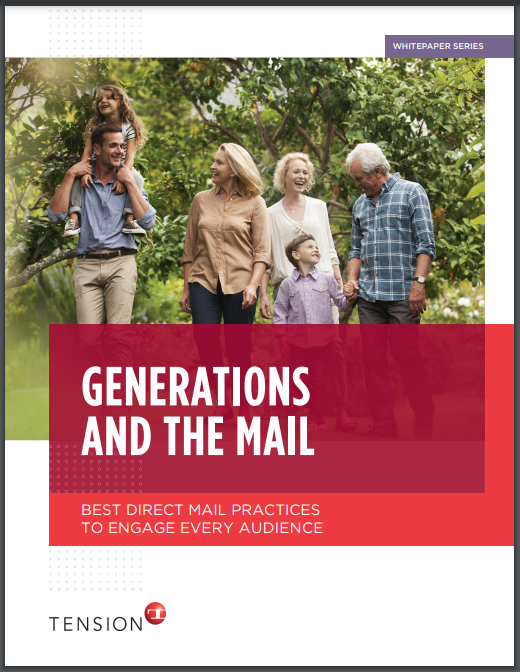 Download Our White Paper
Download our "Generations in the Mail" white paper for an in-depth look at the relationships that each generation has with direct mail.
Get Started with a Tension Expert
Stay tuned for future blogs with insights on the other key generational demographics. Contact one of our experts today to get started.
A global leader in envelope, printed product, packaging and packaging automation solutions, the Tension Corporation is a privately held and operated company based in Kansas City, Missouri. Tension manufactures billions of envelopes annually and their envelope and printed products division serves a variety of industries, including third-party billing, financial, insurance and direct marketing. The packaging and automation division of Tension provides software, consumables, automation and service and support for fulfillment to the e-commerce and pharmaceutical industries.