Transparency and Practicality Are the Keys to Earning Gen Xers' Attention and Business
In previous blogs we explored the relationships that Gen Z and Millennials have with direct mail and the best way to approach them. Each of the generations respond differently to direct mail and it is important that marketers understand these often subtle differences to communicate with their target audience effectively. Let's delve into the connection that Generation X has with direct mail.
The typical Gen Xer is well into their career with some years to go. That means, more than any other generation, they have significant purchasing power right now. But there is a caveat. Many are raising families and looking after aging parents. Given their considerable responsibilities, you'll need to prove why you deserve this group's attention and resources.
Who is Generation X?
65 million Gen Xers
Between the ages of 43 and 58 in 2023
Born between 1965 and 1980
Most are well established professionals with disposable income — and a lot of responsibilities
Simple Messaging is Best with Gen X
Generation X has an affinity for direct mail, perhaps since it can be set aside and looked over when busy schedules allow. But because this is a particularly shrewd audience, not just any mail piece will resonate. Your goal, and greatest weapon, in marketing to Gen X is simplicity. Direct mail pieces should be clear and concise with an obvious CTA, relevant promotions and honest, transparent messaging. And when it comes to getting a Gen Xer to act, practicality drives decision making. They're a discerning bunch with many responsibilities. You'll need to prove why you deserve their attention and resources — transparency, relevance and valuable deals go a long way.
Using Omnichannel Marketing with Gen X
It can be advantageous for marketers looking to leverage multichannel promotions. Unlike their younger peers, members of Generation X did not grow up immersed in technology. However, given their close adjacency to it, they had little choice but to jump in headfirst and adopt it. Consider including a QR Code they can scan using their phone that takes them to a promo video. Because Informed Delivery participation is high, a PURL or other clickable link would work well too. Members of Generation X are receptive to new technologies and crave convenience. This means they respond well to multichannel campaigns with clear and easy-to-access CTAs.
Design Your Mailpiece for Gen X
An eye-catching design and clear digital response device should work well with this group. The most common way members of Generation X access the internet is via smartphones, and more than 60% of them prefer learning about a product by watching a video. Including a QR Code they can scan using their phone that takes them to a promo video is one potentially effective design element. Whether you're trying to connect with gen Xers make sure your message is relevant and direct. Your offer needs to be clear and worthwhile. Designs don't need to be trendy, but they do need to stand out. Consider bold colors and quality materials.
Tension Products for Gen X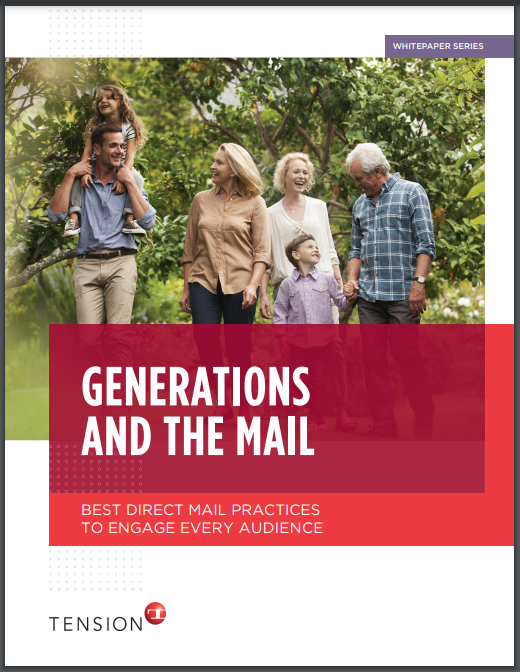 Download Our White Paper
Download our "Generations in the Mail" white paper for an in-depth look at the relationships that each generation has with direct mail.
Get Started with a Tension Expert
Stay tuned for future blogs with insights on the other key generational demographics. Contact one of our experts today to get started.
A global leader in envelope, printed product, packaging and packaging automation solutions, the Tension Corporation is a privately held and operated company based in Kansas City, Missouri. Tension manufactures billions of envelopes annually and their envelope and printed products division serves a variety of industries, including third-party billing, financial, insurance and direct marketing. The packaging and automation division of Tension provides software, consumables, automation and service and support for fulfillment to the e-commerce and pharmaceutical industries.