Wow customers while saving on your next direct mail campaign.
A recent study found that most marketers believe direct mail delivers the best ROI of all the channels they use — if it's done right. With its ability to minimize costs and maximize impact, roll-to-roll lithographic (litho) printing could be the key to your success.
What is Roll-to-Roll Litho?
Traditional die-cut litho envelopes are printed in sheets, die cut, then placed on an envelope folding machine. In the roll-to-roll process, one roll of substrate is continuously fed through a printer before it is re-rolled and placed on another machine to be cut and folded into envelopes.
Benefits of Roll-to-Roll
Roll-to-roll litho printing offers a few distinct benefits compared to die cut litho, largely thanks to its efficiency and speed to market. As a result of its streamlined manufacturing process, marketers who choose roll-to-roll can expect: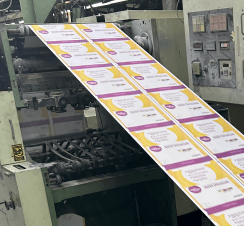 Quality and speed: For many direct mail campaigns, roll-to-roll is ideal. Die cut requires more steps and is better suited for smaller projects.
Cost savings: The continuous feed allows greater production throughput and faster time to market without sacrificing quality.
Creative flexibility: Tension's process allows for stunning graphics, coatings and textures that provide dimension and elevate your piece.
When it comes to different marketing channels, 76% of consumers trust direct mail over digital media. In addition to being more comfortable with it, people enjoy the tactile, personalized experience of receiving mail. It's a powerful channel to leverage, but you need to select the right processes, materials and designs for the best ROI.
As a last piece of advice, be sure you're working with a clean marketing list. As postage rates rise, flawed data will cost you—and so will cutting corners on quality. For the typical campaign, your envelope package will only account for about 10% of your costs. But it's largely responsible for whether your offer is seen and acted on. Never underestimate the power of a well-designed envelope!
Roll-to-Roll with Tension
Get the most out of your next campaign. Tension's roll-to-roll litho envelopes and our design services team can help you maximize your investment. From design to delivery, let our experts guide you through your next mailing. Contact us today to discuss the print capabilities available with roll-to-roll litho printing.
About Tension
A global leader in envelope, printed product, packaging and packaging automation solutions, the Tension Corporation is a privately held and operated company based in Kansas City, Missouri. Tension manufactures billions of envelopes annually and its envelope and print division serves a variety of industries, including third-party billing, financial, insurance and direct marketing. The packaging and automation division of Tension provides software, consumables, automation, and service and support for fulfillment to the e-commerce and pharmacy industries.