Integrating technology into the mailpiece can enhance the way recipients interact with their mail. When digital technologies and direct mail are combined, marketers have reported:
68% increased website visits
63% increased response rates
60% increased ROI
53% increased leads
The USPS® is encouraging mailers to integrate technologies on their mailpieces with the USPS 2021 Emerging and Advanced Technology promotion.
Promotion Registration: January 15, 2021–August 31, 2021
Promotion Dates: March 1, 2021–August 31, 2021
Discount: 2% of eligible postage for First-Class Mail® letters, cards and flats, USPS Marketing Mail® letters and flats and Nonprofit USPS Marketing Mail® letters and flats.
New Eligible Mail Classes for 2021
Note that eligible mail classes have been revised from First-Class Mail presort and automation letters, cards and flats to First-Class Mail letters, cards and flats for 2021.
Promotional Details
The Emerging and Advanced Technology promotion encourages mailers to integrate mail with advances in technology. Here are the seven qualifying technologies for this year's promotion:
Interactive Near Field Communication: Near Field Communication (NFC) is technology that describes the interaction between a mailpiece-embedded chip and an NFC-enabled device (e.g., smartphone, tablet).
Video in Print (ViP): ViP is integrated into printed pieces (such as catalogs) and/or mailpieces through a video screen, integrated video or picture, personalized interactive video or shoppable video by way of a quick response (QR) code, augmented reality (AR) code or NFC technology.
Extended Reality, which includes:

"Enhanced" Augmented Reality (AR): "Enhanced" AR refers to consumer engagement experiences that directly relate to the brand or products being promoted; it can include video animation and/or 3D graphics.
Virtual Reality: This technology presents brands or products in real or simulated environments in order to create interactivity and consumer engagement.
Mixed Reality: This technology combines augmented and virtual experiences, and can include sight, sound and touch.

Integration with Digital Assistants: In order to integrate with digital assistants such as Siri or Alexa, clear, specific instructions must be placed on the mailpiece that enable the voice assistant to do a specific, qualified business task (e.g., purchase a product).
Digital to Direct Mail: Also called re-targeted direct mail, this is the use of dynamically printed, personalized messaging triggered from a digital interaction.
Tip: If you choose to include integration with digital assistants or digital to direct mail technology on your mailpiece, be sure to contact the USPS Program Office at emergingtechpromo@usps.gov prior to submitting a mailpiece for pre-approval.
2021 USPS Promotions and Incentives Updates from Tension
Tension is offering easy-to-read overviews of the USPS promotions, available to you. Sign up for our updates here. You can also find details on the USPS 2021 Promotions and Incentives on our website.
Two-Page Overview of the 2021 USPS Promotions
Do you need a quick overview of the promotions and important dates for each? Click here to download.
USPS 2021 Promotions and Incentives White Paper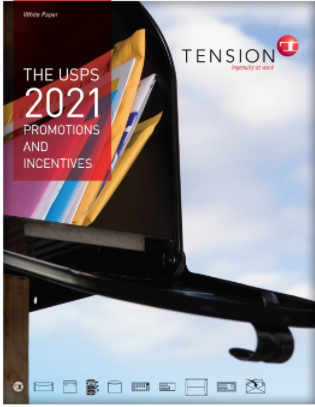 Explore details and program requirements for each promotion in our white paper, USPS 2021 Promotions and Incentives. Click here to download.
Be sure to check full program requirements here. The USPS gives all final approvals and including one of the design elements mentioned above does not automatically qualify you for the promotions. You can also consult the USPS for full details on the Emerging and Advanced Technology promotion at emergingtechpromo@usps.gov.
Contact Tension
A Tension Sales expert can help you explore how to incorporate the USPS 2021 Emerging and Advanced Technology promotion in your next mailing. Contact us to start the conversation today.
*All approvals must come from the USPS. The information presented here is for illustrative purposes only.