As we discussed in part 1 of this series, ultraviolet (UV) ink holds many benefits. In this article, we'll dig deeper into the UV printing process, including which projects are best suited for it and how to ensure top results from your printer.
Advantages of UV Printing
The relative simplicity of UV printing makes it an attractive choice, especially for direct mail marketers trying to balance cost, quality and sustainability. During the UV printing process, a design is applied directly to paper, envelope or other substrate of choice before it's run under powerful UV bulbs to dry the ink nearly instantaneously.
Its efficient production and curing processes set UV printing apart. For instance, unlike lithographic, oil-based printing, which requires a special coating or varnish to seal, UV ink sets without additional applications, cutting down on both time and materials.
Tension's specialized in-line print-to-convert UV print process, makes it easy for customers to leverage our capabilities. And by eliminating several manufacturing steps, our in-line approach further streamlines an already-efficient operation and delivers additional savings.
3 Times to Use UV Ink for Direct Mail
As with all techniques, some projects are better suited for UV printing than others. Here are three instances we recommend using it:
You're producing a full coverage mail piece on coated stock: UV ink's natural sheen is ideal for heavily saturated designs and really makes color pop!


Your mail piece includes a sharp 4-color process image or vignette: When you need to achieve crisp, clear results, UV printing is one of your best bets thanks to the ink's fast-drying nature. It has a tight registration that maintains consistent dots throughout a production run.


You want to add value with sensory details: Looks are important, but keep in mind, sight is just one of five senses customers use to make decisions. UV coatings offer a distinct, rich tactile experience to separate your piece from competitors'. It might even score you a USPS promotional discount.
Getting the Most Out of Your UV Print Partner
UV print station maintenance has a direct impact on production quality. At Tension, we take this seriously. Be sure to confirm your other print vendors are keeping up on the following:
UV Bulbs: These should be replaced every 1,000 hours of use to ensure ink dries properly. Otherwise, images may not be as crisp and ink offsetting could occur.


Reflectors and Shutters: Reflectors and shutters housed within the UV drying cassette must be buffed and cleaned regularly to retain their reflective qualities. You can think of the reflectors as a mirror surrounding the bulbs—the shinier the better they are at magnifying light and heat that are critical to production.


Anilox Rollers: Clean rollers are paramount to accurate and consistent results. At Tension, we clean ours after each print (sometimes even during long runs) to ensure quality.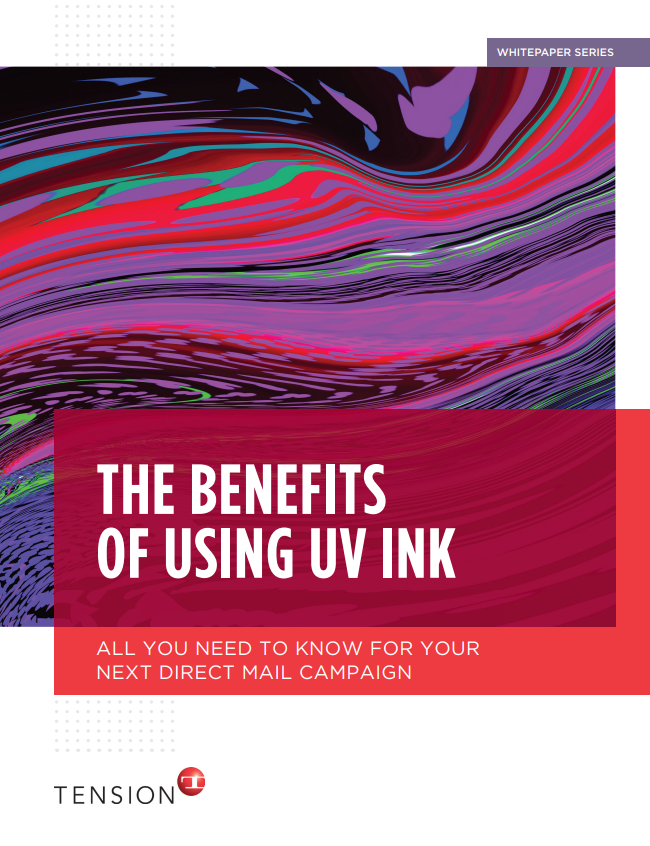 Download Our White Paper
Download Tension's "The Benefits of UV Ink" white paper to learn what sets the UV printing process apart.  
Get Started with a Tension Expert
Learn more about our capabilities using UV ink and how they can help boost your brand and amplify your message. Contact one of our experts today to get started.  
Stay tuned for part three in our UV ink series!
A global leader in envelope, printed product, packaging and packaging automation solutions, the Tension Corporation is a privately held and operated company based in Kansas City, Missouri. Tension manufactures billions of envelopes annually and its envelope and print division serves a variety of industries, including third-party billing, financial, insurance and direct marketing. The packaging and automation division of Tension provides software, consumables, automation, and service and support for fulfillment to the e-commerce and pharmacy industries.