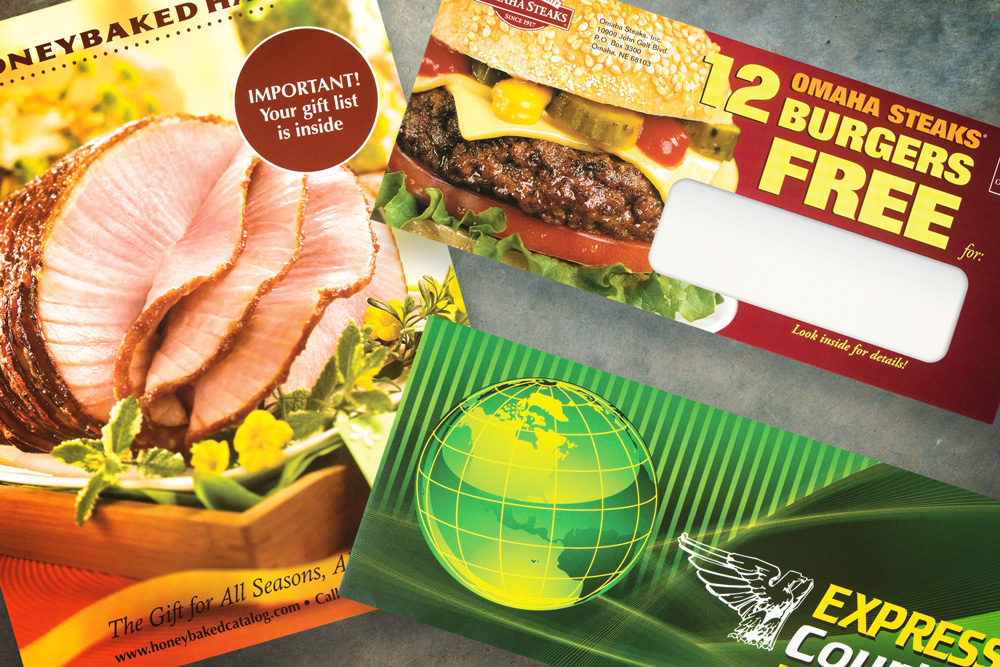 Great Offers Deserve Great Envelopes
Your envelope has just seconds to make an impression on the reader – should the envelope be opened? Is it a relevant offer? Do I trust this company? And as a marketer, you must determine the best way to keep the envelope in the hands of your potential customer and out of the recycling bin.
A well-designed envelope with attention-grabbing images is one way to get your mailing opened. When you are printing text, halftones and other hard-to-replicate images, litho provides the answer.
About Lithographic Printing
Lithographic printing is also called offset printing because ink is transferred, or "offset," from one roller to another.
It employs multiple rollers to distribute the oil-based ink evenly onto a transfer plate, often aluminum.
The aluminum plate offsets the image onto a blanket cylinder.
Then the blanket cylinder transfers the images onto paper.
Your envelopes can be printed onto a variety of papers. Lithographic printing technology really shines when printing photographs, halftone and fine screens. Generally printed with 150-line ink screens, the added quality of a litho-printed envelope is ideal when delivering an important message.
The Perfect Envelope
Tension's expertise with lithographic printing keeps going even after your envelope has been printed. Cutting, folding, gumming, sealing – these steps are integral to creating an envelope befitting of your offer, and they are tenets of Tension's quality production methods and attention to detail. At Tension's manufacturing locations across the country, they employ common processes to keep your envelopes consistent whether they are produced in Kansas City, Mo., South Hackensack, N.J., or another Tension envelope manufacturing plant.
Or if your creative department needs a boost, Tension can make an impact before ink even hits paper. A talented artist from the Tension Design Group can help design your envelope. Experts at maximizing the potential of each printing technique, Tension knows how to create envelopes that earn a second look.
Ideal for Direct Mail
Direct mailers know that lithographic printing keeps their envelope on the top of the stack. The envelope has a very valuable image building function. The use of different papers, colors, designs and envelope styles says a lot about who you are. Envelopes are a major contact point between buyer and seller, and your envelopes and its contents are a representation of your organization. The impression your company makes on customers and prospects is influenced not only by your products and services, but by the appearance of your representatives – including your envelopes.
Tension is always expanding its expertise and looking at ways to provide its customers with cost-effective lithographic printing options. Contact us to learn more.