In the world of printing, one common method is the Ultraviolet (UV) printing process. This process uses specialized ink that is designed to cure instantly. More specifically, UV ink is a type of radiation ink that consists of pigments dispersed in liquid prepolymers, monomers and initiators that release free radicals which instantly polymerize the ink to a dry, tough thermosetting resin on exposure to intensive UV radiation.
In part one of our series, we will explore the benefits of using UV ink in direct mail.
UV Ink Packs a (Colorful) Punch
UV printing is highly effective in direct mail campaigns due to its ability to hold strong color and achieve solid ink laydown. UV ink does not have the same evaporative components that other traditional ink chemistries do. This gives products printed with UV ink a smooth finish and intense color. The finished result when using UV cured inks produces much sharper colors than those that are printed using more traditional printing methods.
Quick Drying with UV Ink
UV inks cure instantly as the ink passes through individual UV lamps, which eliminates ink gain as well as other potential ink drying issues. Ink gain is essentially the spreading of the ink after it is printed. High ink gains can cause line type to become blurry and distorted. In comparison, water-based inks dive into the substrate leading to increased ink gains; UV inks cure on top of the substrate, instantly, with no ink gain. Because the ink dries instantly, printing UV allows for more intricate designs. The natural gloss elements in UV inks lend themselves nicely to 4-color process printing and produce vibrant colors.
Add a Special Touch with UV Printing
Printing with UV inks opens many doors to unique coatings and specialty ink options that can help entice the consumer to pick up your mailpiece. UV printing allows for specialty gloss and dull varnishes, grit (sandpaper-like) varnish, soft touch coatings, as well as the use of metallic inks. Using water-based inks would not allow for many of these sought-after treatments.
All of the above help your mailpiece stand out from the competition.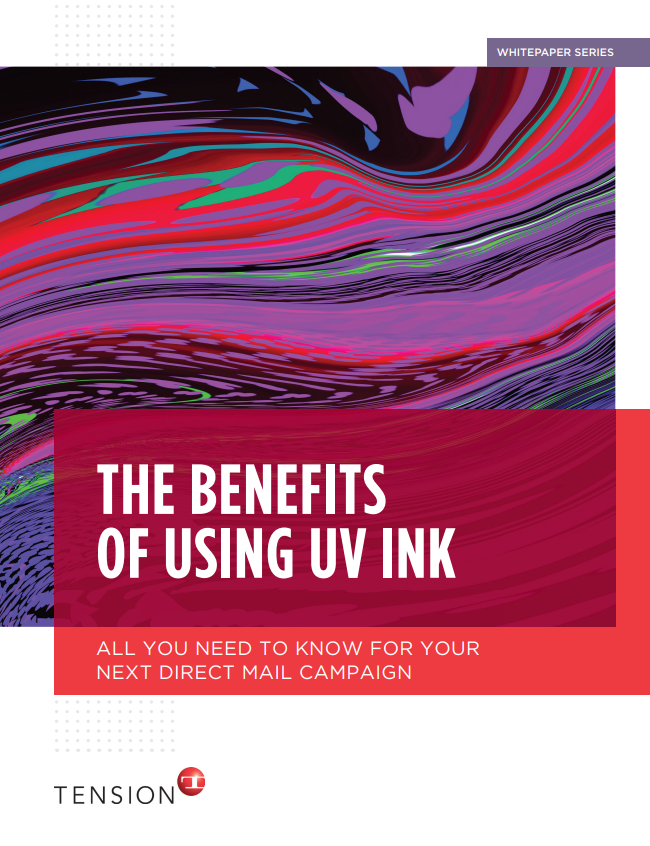 Download Our White Paper
Download Tension's "The Benefits of UV Ink" white paper to learn what sets the UV printing process apart.  
Get Started with a Tension Expert
Learn more about Tension's capabilities using UV ink that can help boost your brand and tie your messaging together by contacting one of our experts today to start your project.
Stay tuned for part two in our UV ink series!
Tension Corporation is a global leader in envelope products, packaging and packaging automation solutions. It is a privately held and operated, international company based in Kansas City, Mo. Tension manufactures billions of envelopes annually and their envelope division serves a variety of industries, including financial, insurance and direct marketing, plus they work directly with third-party providers. The packaging and automation division of Tension provides software, consumables, automation and service and support for fulfillment to the e-commerce and pharmaceutical industries.