With the touch of a button on your mobile device, you can have a pair of shoes at your doorstep in a day. The only hard part can be knowing where to find the best online shoe deal. That's where mail can help advertise your promotion, and lead people to your website for purchase. And with the new USPS® 2019 Mobile Shopping promotion, mailers can earn mail discounts at the same time.
USPS Mobile Shopping Promotion
The USPS 2019 Mobile Shopping promotion encourages mailers to integrate mobile technology with direct mail through various technologies – Quick Response (QR) Codes, Snap Tags, Watermarks, and other advanced technologies — to create a convenient method for consumers to do their online shopping. And because this promotion runs through the remainder of 2019, it's the perfect time to get your holiday promotions or fundraisers ready for your mailpiece.
Promotion Registration: June 15, 2019 – December 31, 2019
Promotion Dates: August 1, 2019 – December 31, 2019
Discount: 2% of eligible postage for USPS Marketing Mail® letters and flats and Nonprofit USPS Marketing Mail® letters and flats.
Promotional Details
To qualify for this promotion, your mailpiece must involve the following requirements*:
Mobile barcode/Mobile Print Technology
Barcode placement
Directional copy
Website relevance
Mobile optimization
Purchase path
Multi-mailpiece/Marriage mailers
Qualifying products
New for 2019: Mailers can qualify with an app-enabled QR code payment.
As always, consult the USPS for more details on program requirements. You can also find descriptions of these requirements in our USPS 2020 Promotions and Incentives white paper.
Related Tension Product
Research tells us mail coupled with digital can lead to a 9x better chance of making a sale. Give your offer a boost by advertising it on direct mail! Our Peel and Reveal mailpieces can act as a billboard to showcase your product or service, and with their interactive, peel back layer, you can tactically engage customers while encouraging them to jump to your mobile site with a QR code (or, to really engage your recipients test an evolving QR code technology, such as animated QR codes, Visual QR codes, Dotless QR codes or Voice QR codes). Check out our Peel and Reveal product spotlight blog for more details.
2019 USPS Promotions and Incentives, Simplified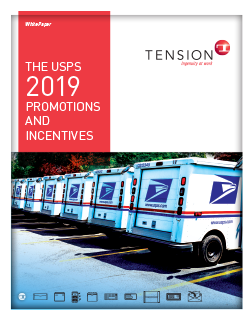 Tension has prepared easy-to-read overviews of the USPS promotions, available to you.
Two-Page Overview of the 2019 USPS Promotions
Do you need a quick overview of the promotions and important dates for each? Click here to download.
USPS Promotions White Paper
Or, are you looking for an in-depth view of promotional details and requirements? Our white paper takes a deep dive into each promotion, highlighting approved mailpieces, available discounts and more. Click here to download.
Be sure to check full program requirements here. The USPS gives all final approvals, and including one of the design elements mentioned above, does not automatically qualify you for the promotions.
A Winning Combination
Advertise your promotions with the winning combination of mail and mobile. A Tension Sales expert can help you explore creative ways to incorporate the USPS 2019 Mobile Shopping promotion in your next mailing. Contact us to start the conversation today.
*All approvals must come from the USPS®. The information presented here is for illustrative purposes only.