Direct mail works. It's that simple. Knowing how, when and why to use a mailpiece? Not so simple. This series is here to help you gain an understanding of the two most popular direct mail formats – envelopes and postcards.
In our previous blog, we gave an overview of envelope and postcard mailings. Now, let's visit when to use them.
Envelope Mailings
By design, envelopes offer senders ways to enclose their materials. Here's a few examples of things you can include in an envelope mailing and prime times to use them:
Support a digital marketing campaign – Integrate your marketing efforts by including a personalized URL (PURL) in your envelope mailing. This will provide you a way to track your mail's effectiveness and help with attribution data.
Make an offer that appears personal and private – Because envelope mailings offer a secure, confidential way to send messages, they can help marketers communicate exclusivity: Studies show mail is the single most effective medium to drive people to redeem a coupon. Leverage this information by including an exclusive coupon in your envelope mailing that can only be redeemed online.
Include a letter for person-to-person engagement – Think about all the good news that can arrive via the mail (e.g. acceptance to a university, a new job offer). Make your announcement heard with an envelope mailing, and at the same time, build relationships in a more personal way than you could with email.
Provide a reply device and postage-paid reply envelope – Include a postage-paid vehicle for recipients to reply to you. This not only encourages communication, it could help you earn postage credits through the USPS® 2019 Earned Value promotion.
Postcards: A Marketer's Two-faced Friend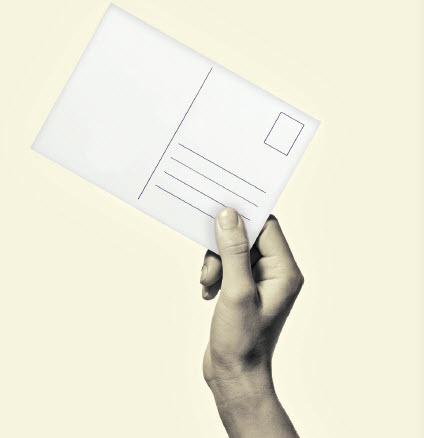 There are plenty of marketing reasons to mail postcards to recipients, whether it's a customer, donor or prospect:
Announce a sale – Postcards can be an effective way to immediately get in front of your audience. Research shows mail advertisements can lead to an additional 7.1 online purchases per year. Take advantage of this trend and send a coupon code to targets.
Generate website traffic – Looking to showcase a new product? Send your audience a postcard with a PURL to encourage them to visit, click and engage with the new product's webpage.
Say thank you – Postcards with a thank you for people who visited your trade show booth are a nice way to show good manners and have another point of contact with a warm lead.
Reinforce your brand – Again, postcards offer immediate communication. Up your brand awareness in an instant with a well-designed postcard.
Download Tension's Envelope vs. Postcard White Paper
Need a helping hand to guide you in your direct mail marketing endeavors? Download Tension's "Envelope vs. Postcard" white paper today for helpful tips on how to successfully use a mailpiece in your integrated campaign.
Make a connection with your audience with a direct mail envelope or postcard. Connect with a Sales expert today to discuss your campaign needs.