Whether you outsource some or all of your direct mail campaign, the partners you'll work with are invaluable to your overall success. This is especially true if you are new to direct mail; an experienced partner can lend you years of expertise and consult with you on best practices for your mailing.
Familiarize yourself with the very important partners (VIPs) in your Direct Mail Ecosystem.
The Direct Mail Ecosystem
Before selecting partners to work with, you'll want to interview and carefully select these individuals or groups to find the best option for your campaign.
Ad Agencies – Ad agencies offer copywriting and design expertise to help with the concept, copy and design for your campaign. They can also work with outside mailhouses to manage the production and mailing of a commercial mailing.
Copywriters – Copywriters craft the copy, or written content, of the offer.
Data Processing Company – Data processors help your mailpiece reach its final destination at your intended recipient. Some clean up and correct address information while others will assist with modeling, segmenting and targeting.
List Providers – List providers can either sell or rent you a mailing list. Lists can be created based on demographics you are trying to target or list providers can help add or "append" additional information designed to improve your targeting efforts.
Mail Service Providers (MSPs), also known as Mailhouses and Lettershops – Mail Service Providers specialize in printing and preparing commercial mailings for customers. They are well-versed in the technical requirements needed for a direct mail campaigns and specialize in printing and preparing commercial mailings for customers.
Presort Bureau – Presort Bureaus specialize in presorting mailings by ZIP Codes for mailers who don't want to do the presorting yet want the postage discounts offered by the USPS for presorted mail.
Printers – Some printers can focus on only printing, while others can handle the printing and mailing of your mailpiece. The USPS provides a list of local printers here.
Envelope Manufacturers – Envelope manufacturers, like Tension, produce envelopes to your exact specifications. Tension also provides creative design, a wide variety of envelope formats and expert guidance along the way.
USPS – A self-supporting, independent federal agency that delivers mail to every address in the United States.
YOU – The talented marketer who manage the VIPs in the Direct Mail Ecosystem and develop the campaign's offer, price, promotion and underlying strategy.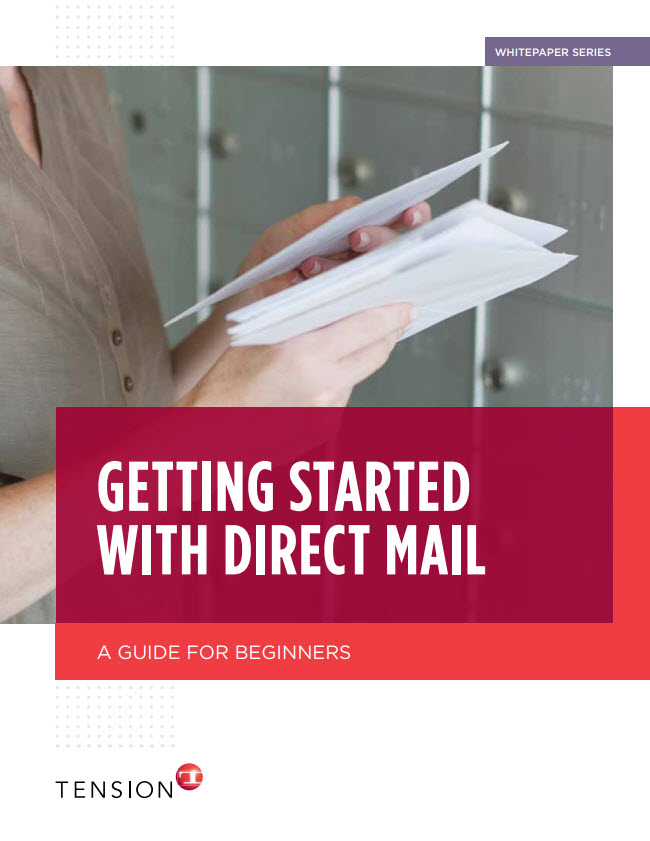 Getting Started with Direct Mail
For more information on the Direct Mail Ecosystem and other tips on getting started with direct mail, download our "Getting Started with Direct Mail" white paper. Click here to download.
Contact Us
Ready to get started? Contact us today and let's explore why Tension is the best choice in an envelope manufacturer for your Direct Mail Ecosystem.