Part 2 of this series examined the ultraviolet (UV) printing process, including UV ink's quick-curing properties that make it popular among direct mail marketers.
In this installment, we'll explore other advantages, namely, how UV coatings can enhance your design, while also providing an ecofriendly alternative to traditional inks.
Enhancements to Improve Open Rates
Although UV inks and coatings can be more expensive unit-for-unit than water-based options, it doesn't mean your project will cost more to use them. Because they provide exceptional coverage and vibrancy and cure instantly, less product is needed to achieve the desired effect, which can be impactful.
UV coatings are a fantastic way to make your marketing piece stand out. Often, mailers incorporate a variety of coatings that blend nicely with their artwork and overall design to improve mailpiece open rates.
Consider these UV coating enhancements to elevate your next direct mail project:
Make a special tagline or image pop by adding a gloss varnish.

Incorporate a soft touch coating for a velvety effect and high-end feel. Popular among financial institutions, this coating conveys exclusivity and prestige.

Grit varnishing is great for overprinting special line type or images meant to draw attention or for full coverage printing that you want to have a tangible element.
It's important to remember that while several UV coatings qualify for USPS discounts, you must submit the finished mailpiece for approval.
An Eco-Friendly Alternative
Most printers strive to be eco-friendly, incorporating "pollution-prevention" technologies where possible. UV printing is a great way to do this.
Because traditional oxidizing inks contain solvents, they require additional operating controls and generate greenhouse gases. In contrast, solvent-free UV printing is a low-emission process, meaning there is little to no waste to control, destroy or recycle. Some ink manufacturers even claim zero emissions in the UV curing process.
Like many statements regarding sustainability, some claims may be exaggerated. Nevertheless, it is well documented that UV inks are more eco-friendly than solvent-based products because they are free of harmful substances and volatile organic compounds (VOCs) and do not require heat to dry or equipment to reclaim solvents.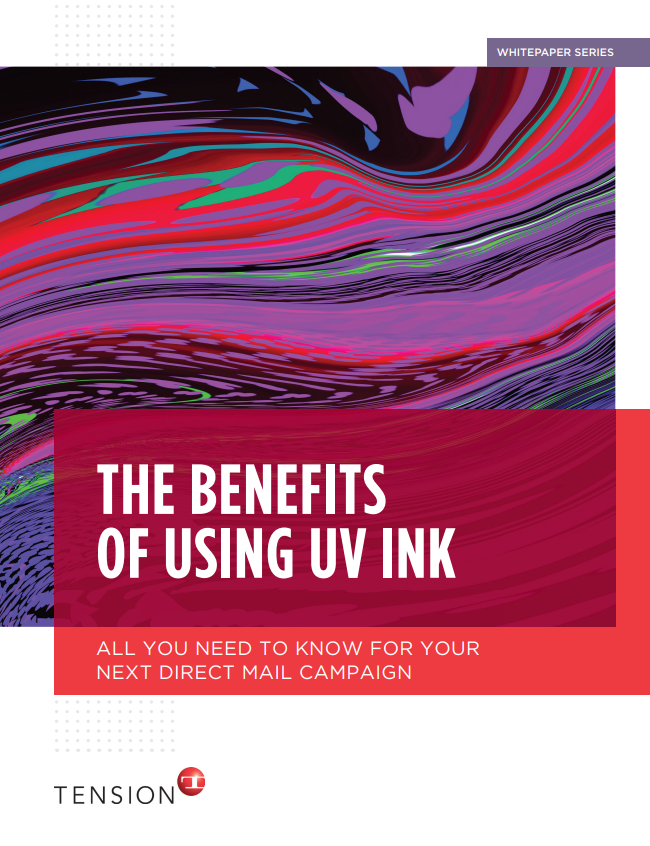 Download Our White Paper
Download Tension's "The Benefits of UV Ink" white paper to learn what sets the UV printing process apart.  
Get Started with a Tension Expert
Learn more about Tension's capabilities using UV ink and how they can help improve your direct mail open rates, while being mindful of the environment. Contact one of our experts today to get started.
A global leader in envelope, printed product, packaging and packaging automation solutions, the Tension Corporation is a privately held and operated company based in Kansas City, Missouri. Tension manufactures billions of envelopes annually and their envelope and printed products division serves a variety of industries, including third-party billing, financial, insurance and direct marketing. The packaging and automation division of Tension provides software, consumables, automation and service and support for fulfillment to the e-commerce and pharmaceutical industries.