The USPS® 2022 Emerging and Advanced Technology promotion encourages mailers to blend the familiarity of the physical mailpiece with the possibilities of new and emerging technologies.
As the technologies become increasingly available, the necessary tools for your recipients are simply as far away as their cell phones, mailboxes and home voice assistants.
In fact, 75% of U.S. respondents say they plan on using QR codes® moving forward.
Global smartphone penetration has jumped, rising from 59.01% in 2017 to 78.05% in 2020.
Studies show that by 2021, more than 25% of the total U.S. population will be using Augmented Reality, or AR.
According to the NFC Forum, "20%+ of the world's population have access to NFC."
Explore how you can integrate intriguing mobile and home technologies into your mailpieces with the Emerging and Advanced Technology Promotion.
Promotion Registration: January 15, 2022 – August 31, 2022
Promotion Dates: March 1, 2022 – August 31, 2022
Discount: 2-3% of eligible postage for First-Class Mail® letters, cards and flats; USPS Marketing Mail® letters and flats; Nonprofit USPS Marketing Mail letters and flats
Updates in 2022
In 2022, updates were made to the available technologies and discount tiers.
There are two tiers of discounts available depending on the technology, including a Basic and Advanced Voice Assistant Integration option
Digital to Direct technology is no longer eligible
Personal Interactive Video was removed and a 360-degree Video View is added
Promotional Details
There are seven ways to enhance the recipients "realities," expanding the ways that recipients can interact with a mailpiece.
2% discount:
"Enhanced" Augmented Reality (AR) – show real world objects using 3D digital images. AR is an interactive experience that depicts real world objects which are enhanced digitally using 3D technology in a physical world. In order to qualify for the promotion, the AR must include 3D elements, images, or modules and some sort of animation or an interplay between the physical (mailpiece) and the digital that actively incorporates the user's perspective.
Basic Integration with Voice Assistant – use basic voice commands. Basic Integration with Voice Assistant requires utilizing voice technology that makes use of existing search functionality and capability, as the voice assistant can perform these tasks naturally. The mailpiece must give specific instructions directing recipients to use a voice prompt to deliver a consistent targeted response or action through a voice device.
3% Discount:
Advanced Integration with Voice Assistant – create custom voice commands to deliver unique user experiences. The mailpiece must include the use of pre-built or customized skills or actions developed using device toolkits like Alexa Skill Kit (ASK) for Alexa devices or Google Console for Google Assistant, etc.
Video in Print Technology (VIP) – create a mailable, interactive video experience. A playable video screen is integrated into printed material such as print catalogs or mailpieces.
Near Field Communication (NFC) – chip enabled mailpiece. The user initiates an interactive experience by touching a smartphone or tablet to the NFC embedded item, or by placing the device in proximity to the NFC chip.
Mixed Reality (MR) – blend physical and virtual spaces. MR merges both augmented and virtual experiences through a combined immersive technology that can include sight, sound, and touch.
Virtual Reality (VR) – create replicas of an environment, real or simulated, that include a user's physical presence and artificially create sensory experiences, which can include sight, touch, and hearing.
2022 USPS Promotions and Incentives Updates from Tension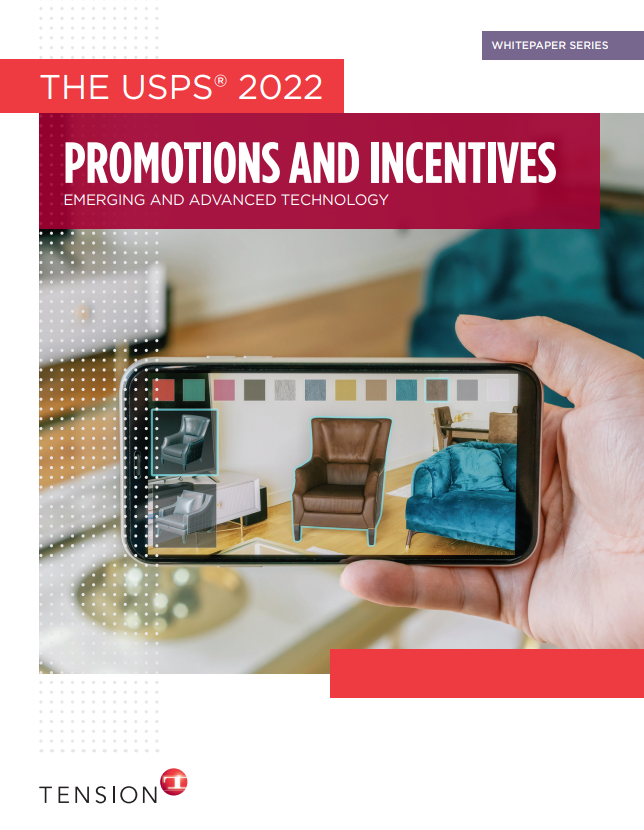 2022 USPS Emerging and Advanced Technology Whitepaper
Explore details and program requirements for the Emerging and Advanced Technology promotion in our latest whitepaper. Download our free whitepaper by clicking here.
Two-Page Overview of the USPS 2022 Promotions
Find details on the USPS 2022 Promotions and Incentives on our website. Need a quick, 2-page overview of the promotions and important dates for each? Click here to download.
More Details about the USPS 2022 Promotions and Incentives
Be sure to check full program requirements here. The USPS gives all final approvals and including one of the design elements mentioned above does not automatically qualify you for the promotions. You can also consult the USPS for full details on the Emerging and Advanced Technology promotion at emergingtechpromo@usps.gov.
Contact Tension
A Tension Sales expert can help you explore how to incorporate the USPS 2021 Emerging and Advanced Technology promotion in your next mailing. Contact us to start the conversation today.
*All approvals must come from the USPS. The information presented here is for illustrative purposes only.