You can never have a second chance to make a first impression. This adage rings true when it comes to new donors and their lifetime value (LTV), or the total amount they'll give during your relationship with them. LTV can greatly be impacted during a donor's first year of giving. And although new donors can be more challenging to retain than existing donors, there's strong potential to increase their LTV when you keep them engaged past that first year, to the tune of a 44% lift in your existing donor database.
Given this opportunity, first-year donor retention strategies are crucial, and typically include the impactful, tangible experience only direct mail delivers. Here are a few tips your nonprofit can use to cultivate new donor relationships through direct mail:
Thanks a Lot!
A sincere "thank you" can earn major retention points for your organization. Some experts suggest returning the thank you in the manner in which the donation was received; donors reveal their communication preferences in the way they donate. If you receive new donations via a direct mail campaign, a corresponding direct mail thank-you note campaign would be an appropriate response. While you're creating this dynamic direct mail piece, consider running an A/B test with an insert requesting recurring donations.
Hello? Is it Me You're Looking For?
A personal phone call offers an unexpected way to make someone feel special. If your new donors make a gift via phone, a return thank-you call from a Board member is a nice way to respond and further connect them with your cause. Again, your donors will let you know their communication preferences in the manner they donate.
Onboard New Donors like a New Employee
Help new donors get to know your organization just as you would a new employee: with an integrated campaign. Start by sending a direct mail piece to new donors with an evergreen newsletter that publicizes your social media channels. Email new donors after 90 days to check in on them, and let them know about important upcoming events. Lastly, send another direct mail piece six months after their first donation to let them know the impact of their gift.
Download Tension's Guide: Maximizing Donor Communications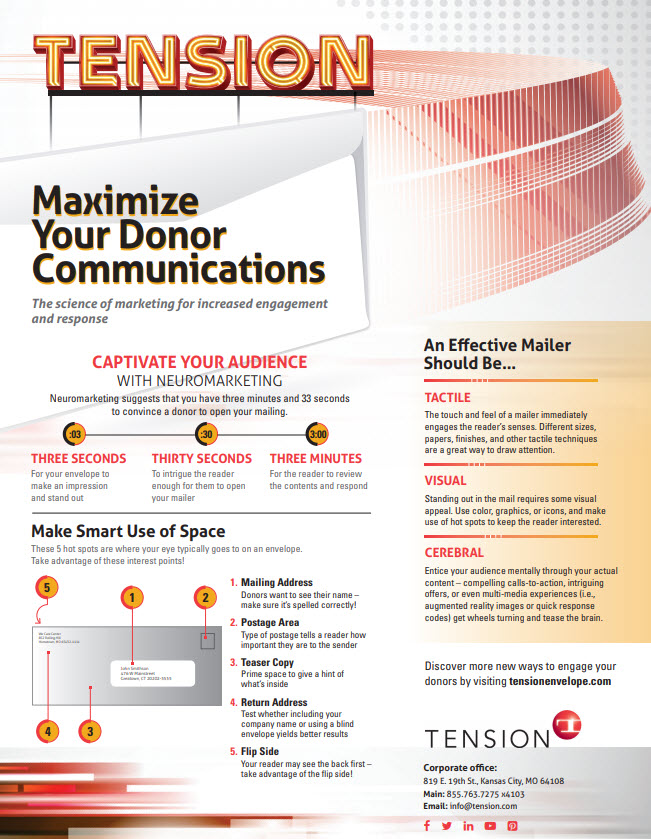 How you communicate with donors can have a big impact on how they respond to your fundraiser. Download our guide and learn how to captivate your audience using art and science.
Contact Tension
A lifetime of value awaits your organization with increased first-year donor retention. Not sure where to begin? Take the logical first step. Contact us to discuss how the power of direct mail can make a lasting impression on your new donor base.
Check out Using Direct Mail to Improve Donor Lifetime Value: Part 2 on boosting donor lifetime value with monthly giving campaigns.