The first direct mail campaign debuted in 1835. While mail has evolved with advancements such as retargeted direct mail and variable print technologies, it remains a marketing mainstay because of its effectiveness. Quite simply, direct mail elicits response.
Savvy new marketers are often aware of direct mail's effectiveness yet lack experience in how to run a campaign. Understanding the major steps of a direct mail campaign can help serve as a starting point for marketers new to direct mail.
Key Tactical Activities of a Direct Mail Campaign
As you plan for your direct mail campaign, it's important to familiarize yourself with the following key tactical activities that occur:
Strategy – Strategy involves designing your offer and developing your list. These two things alone will take up a majority of your campaign efforts so plan accordingly.
Creative – Creative involves the copywriting and graphic design needed for the envelope, postcard, and any inserts.
Production – This refers to the actual printing of the mailpiece, including the envelope and anything that goes inside it (e.g. forms, inserts, etc.).
Inserting – High-speed inserting equipment inserts letters and other materials such as buckslips into the envelope.
Sorting – There are financial incentives from the USPS® for grouping or sorting your mailing by like ZIP Codes.
Mailing – This step involves adding postage and physically delivering the mailing to the post office.
Whatever your business, if you are new to direct mail you will want to work with trusted partners throughout the entire process. They can help guide you with their experience and their expertise. For example, unless you have data experience, a data management expert can help with list hygiene in terms of running it through the USPS National Change of Address (NCOA) database, removing duplicate names, and fixing incomplete addresses. These activities can all help save you from spending postage on undeliverable mail.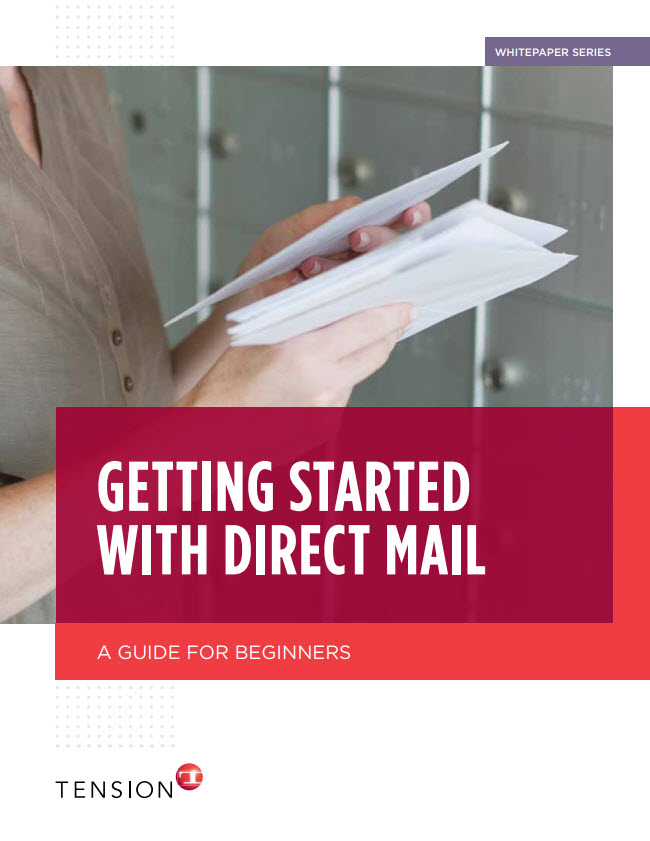 Download Tension's "Getting Started with Direct Mail" White Paper
Learn how to get started with direct mail, who the players are in the direct mail ecosystem and what steps you need to take to get your mailpiece in your recipient's hands with our "Getting Started with Direct Mail" white paper. Click here to download your copy.
Contact Tension
Contact us today and let's discuss how we can help produce a winning direct mail campaign for your organization.