Tension returns as an exhibitor at the 2023 Bridge Conference.

Set in Maryland's beautiful, tree-lined National Harbor, the perennial location of The Bridge Conference provides an ideal backdrop for one of Tension's favorite events. It is a quick cab ride to Washington, DC, or – a short water taxi across the Potomac River to Alexandria, Virginia, yet most importantly, the show's proximity to many nonprofits brings together their professionals alongside the companies who are lucky enough to support them.
While it was our sixth year on the exhibitor's solution showcase floor, it was just the first year as a newly named division, the Envelope & Print division of Tension Corporation. Our name change reflects the breadth of our services that go beyond the envelope. With seven Associates from Tension's Envelope & Print division and four who dedicated themselves primarily to printed products, we enjoyed seeing our customers – old and new.
The Show's New Initiatives
The Bridge Conference promised to deliver on its theme – AMPLIFIED – and our expectations were high. Furthermore, committee members declared during their opening speeches that "the bridge has become a moment."
We were not disappointed! The nonprofit giving space has changed and The Bridge has adapted. For example, this year the Bridge launched BridgeTECH, which focused on how nonprofit professionals can use technology solutions for operational efficiency and fundraising. It was a collaboration with the well-regarded industry publication, NonProfit PRO.
A second initiative was the launch of the Faith & Fundraising Forum. It was a day-long event designed to bring together faith-based fundraisers to learn from each other. While organized with particular attention to challenges and opportunities for the Catholic and Christian communities, they welcomed faith-based fundraisers from all denominations and faiths.
Key Themes from Across the Show
Technology in Action
Starting with BridgeTech, the use of technology was on full display in both the schedule and exhibitor showcase solution floor. We saw classes and exhibitors discussing cryptocurrency, videos, photobooths with some creative backgrounds (think AI and greenscreens), and CRM vendors sprinkled throughout the floor, to name a few. We know that donation strategies cannot function separately from the technology that supports them.
Tension had the opportunity to discuss our Tension Direct online system with customers. It allows for an online catalogue of customizable, print-on-demand products. This, paired with our printed products and envelopes, provides a suite of products that helps reach every donor.
"There Is No Such Thing as a Bad Kid" – Thaddeus Bullard
Talk about AMPLIFYING a message. Thaddeus Bullard walked us through his remarkable life story and exceptional talents as an entertainer, philanthropist and foundation founder during this year's keynote. Known professionally as WWE's Titus O'Neil, he immediately commanded the stage with his large frame in a burnt orange-colored, plaid suit, white shirt, and white tennis shoes. To start, he had the introducer redo her introduction of him with more passion and voice. He knows how to AMPLIFY a message!
Like many of our customers do, he translated his experiences into his mission – to live out his purpose and ensure that everyone knows that there is no such thing as a bad kid. Descriptions of his traumatic start to life were easily overshadowed by his stories of people believing in him and him believing in himself. He spoke about his transformative time on one of Florida Sheriffs Youth Ranches, where he was told by a staff member "there is no such thing as a bad kid…I love you and I believe in you…" While he could have been sent home from that camp for misbehavior, those words inspired him and laid the groundwork to become the accomplished man he is today.
Toward the end of his keynote, he, too, integrated technology in a meaningful way. He asked each one of us to text someone to tell them "I love you, and I believe in you." A few brave attendees shared their responses. As he predicted, they fell into one of three categories: "Huh?" "Thank you," or, "I love you and I believe in you too." He concluded his time onstage with a QR code on screen where we could donate to his foundation.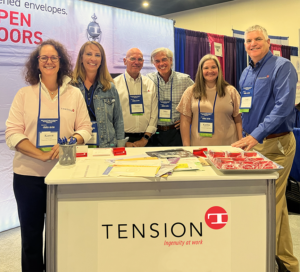 The Bridge in Summary
Of course, we enjoyed some 80-degree days instead of DC's typical summer stickiness. And, as always, we appreciate the Bridge Conference leadership and volunteers. With an impressive roster of organizers, we know that it runs as smoothly as it does because of their commitment and sophistication. Just like they do in their day-to-day professional lives, they find a way to connect with each and every attendee. They make all the solution showcase exhibitors feel valued, and they show every attendee how their presence and contributions make a difference and AMPLIFY our messages and our impact.