Direct mail, unlike digital communications, is printed and read on paper. This difference is significant, thanks to haptics and the way people process information. Haptics is the perception of an object by touch, especially in nonverbal communication. Its importance has been measured by neuroscience, a field which broadly covers the scientific study of the brain and the nervous system.
What the Research Says About Touch
According to haptics expert Dr. David Eagleman in A Communicator's Guide to the Neuroscience of Touch:
More than half the brain is devoted to processing sensory experience, and much of that sensory receptivity focuses on touch. So, words on paper are likely to get extra attention from the reader's brain.
You feel differently about what you touch. When you touch a piece of paper, it triggers a reaction. You begin to feel you own it. And research shows this makes you value it more.
Rough. Smooth. Heavy. Light. Hard. Soft. What you touch shapes what you feel, and this influences perceptions — consciously and subconsciously — related to what you read.
"People understand and remember what they read on paper better than what they read on screens. Researchers think the physicality of paper explains this discrepancy." – Ferris Jabr, 'Why the Brain Prefers Paper,' published in Scientific American.
It's interesting to note that studies show people process and retain what they read on paper better because:
Words on paper are more intuitively navigable than those viewed digitally on a screen.
Words read on paper facilitate better mental mapping of information.
Reading information presented on paper drains fewer cognitive resources, making retention easier for better understanding.
Download Our Whitepaper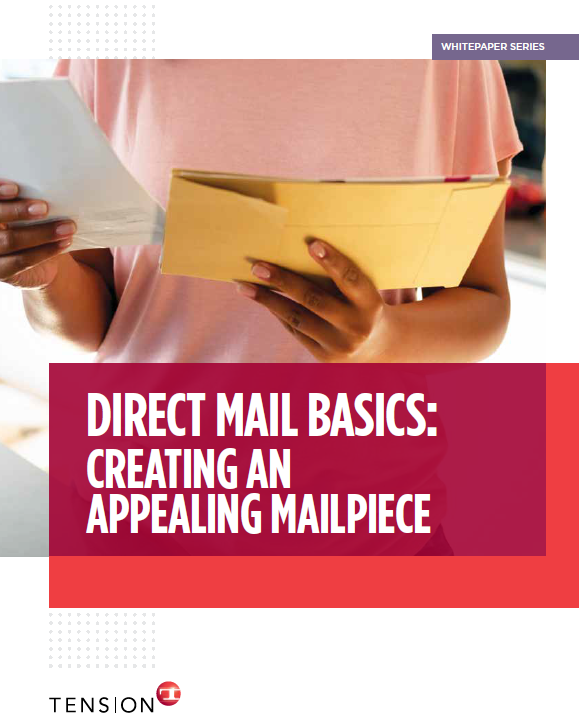 Download our "Creating an Appealing Mailpiece" whitepaper from our Direct Mail Basics series for more details and tips on direct mail list know-how for your next mailing.
Tension Corporation is a global leader in envelope products, packaging and packaging automation solutions. It is a privately held and operated, international company based in Kansas City, Mo. Tension manufactures billions of envelopes annually and their envelope division serves a variety of industries, including financial, insurance and direct marketing, plus they work directly with third-party providers. The packaging and automation division of Tension provides software, consumables, automation and service and support for fulfillment to the e-commerce and pharmaceutical industries.