Here's how you can deliver the perfect picture day experience.
Another school year is underway. That means new milestones, classes, teams and the desire to capture it all. Picture day is the perfect opportunity to document this special moment in time. But there's more to it than a quick click of the camera.
The way photographers deliver snapshots impacts the overall experience. The right approach can drum up excitement and make purchasing easy. From order form to envelope, Tension helps photography companies create the perfect package.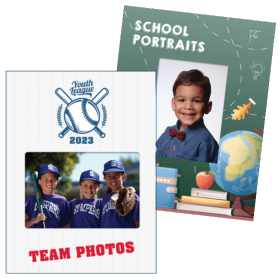 Photo Envelopes
As a pioneer in the development of photo envelopes, Tension helped engineer many of the product features you're familiar with today. Understanding that photo envelopes must be visually and functionally pleasing, ours feature a sturdy construction, easy viewing and options for enhancement.
Key features that set Tension photo envelopes apart:
Flexibility in envelope and window size:

Standard envelope sizes: 9×12", 9.5×12.5", 9×12.5"

Standard window sizes: 5×7", 4×6"

Gentle but high-performing resealable latex glue seal secures photos without damaging them. Plus, because the seals don't extend across the entire tab, they're easy to open without tearing the envelope itself.
Options to print flexo or litho. Litho is our favorite for more detailed designs and flexo for simpler packages.
Roll-to-roll or sheet fed printing is available.
5 color printing, using spot color for flexo or process printing for litho.
Enhancements like TEN Groove embossing help envelopes stand out.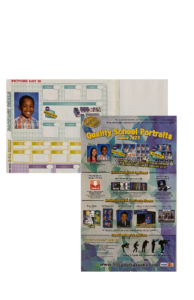 School Order Forms
The right envelope is great for making the best first impression. Making a sale is another thing and that's where an easy-to-use form is critical. This is a busy time for parents and convenience in the ordering process is essential. Tension's forms deliver a frictionless experience, flexibility and efficiency.
Key features that set Tension forms apart:
Flexibility in form and pocket (envelope) sizes:

Form width options: 8.5" or 11"

Includes a special pocket with a perforated edge and sealable glue, converting it to an envelope and allowing users to separate it from the rest of the form and send payment in.
Litho or flexo printing. We like litho because it's more effective for printing detailed designs.
For customers specializing in individual portraits, team photos or other scholastic niche, Tension photo envelopes and forms can help you build the perfect package. From selecting the ideal size to incorporating eye-catching enhancements, let our design experts help you shine on school picture day. Contact us to get started.
About Tension
A global leader in envelope, printed product, packaging and packaging automation solutions, the Tension Corporation is a privately held and operated company based in Kansas City, Missouri. Tension manufactures billions of envelopes annually and its envelope and print division serves a variety of industries, including third-party billing, financial, insurance and direct marketing. The packaging and automation division of Tension provides software, consumables, automation, and service and support for fulfillment to the e-commerce and pharmacy industries.