Wow Your Customers and Convey Your Message with Continuous Forms.
Continuous forms are a staple for direct mailers. They enable the creation of high volume, high impact forms that are inserted into your direct mail piece and convey your message with dynamic printing and personalization.
What are Continuous Forms?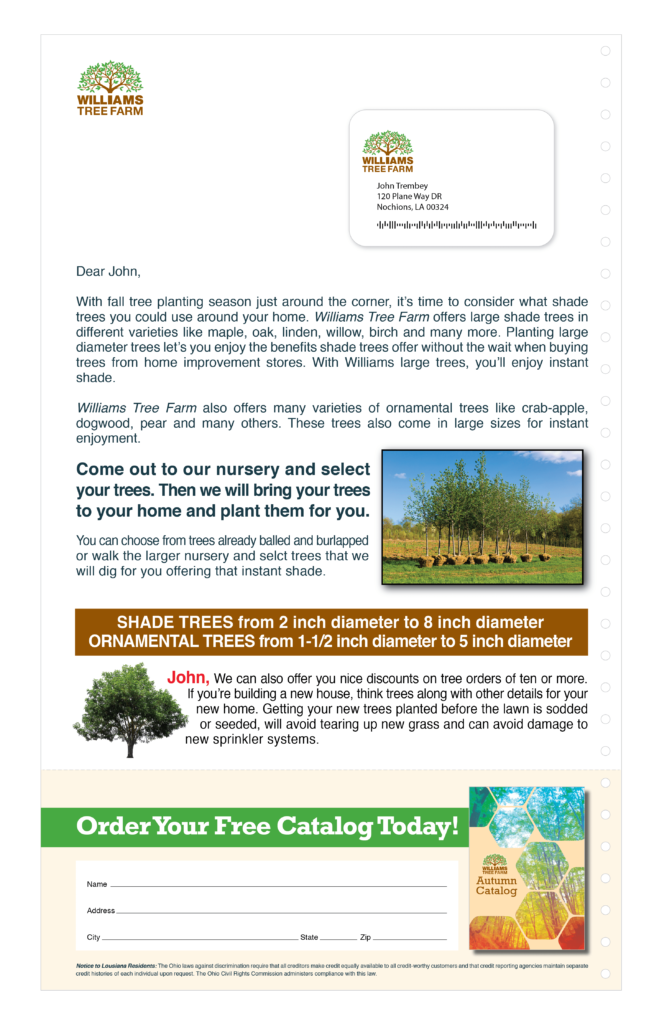 The term "form" may give the impression of a boring, generic printout. Don't be fooled: Continuous forms are anything but dull.
Continuous forms are first printed inline on a lithographic press. During each pass of the roller, identical forms are printed. After these "shells" are printed, the forms are rewound and slit according to the customer's preference.
Once the rewound or folded forms are given to the customer, personalization of each form can be done in an inline, digital printing and cutting process. The forms may be personalized, cut and then inserted into envelopes for sorting and delivery to customers.
Performing the personalization of the form as one of the last steps of the preparation process is more efficient and allows mailers to decrease usage of more expensive digital printer ink.
How to Order Continuous Forms – Basic Vocabulary
Size: The most common size for printing continuous forms is 18" x 11". Forms are printed two across the roll. The 18" roll is cut to make two 8-1/2" x 11" forms. Those can fit into a #10 or 6 x 9-½" envelope. Other typical form sizes are printed 18" x 14" and 18" x 17".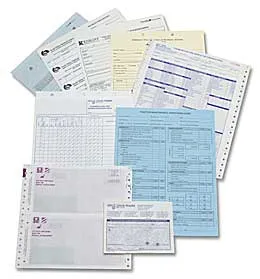 1-UP or 2-UP: Forms are typically printed two across (see image), but they can be delivered as 1-UP or 2-UP, which means the forms can be delivered one across or two across on the roll. With "1-UP," the roll is slit down the center and delivered with just one form across. Pinholes are typically eliminated in this configuration. If a customer requests "2-UP," the forms are rerolled with no slit in the center.
Rolling Position: This shipping preference indicates that the rolls are delivered palletized, with 2 rolls standing on a skid.
Fan Folded: Rather than being rerolled after printing, the forms are folded like a fan, as you may have had with old dot matrix printing paper.
Pin Feed Holes: Pin feed holes are the uniform holes on the sides of the rolls. During the personalization printing process, pin feed holes are used to advance paper on the customer's printers. Pin feed holes are sized at ½" when there are no bleeds on the form copy or ⅜" if the form has bleeds. The smaller pin feed holes used with bleeds have a gutter, or space between the printed piece and holes. This ensures that the bleed is maintained and there is no white space that shows on the final form when the pin feeds are removed.
Slit: When a 1-UP form is requested, the pin feed holes are removed and the center of the roll is cut down the middle. This creates two separate 8-½" x 11" personalized forms.
Affix: Cards, labels and magnets are examples of attachments that can be affixed to the continuous form during the inline printing process.
Uses Outside of Direct Mail
There are everyday uses for continuous forms outside of direct mail. Forms for ordering and invoicing can be printed on a roll and then cut or printed by the customer.
Contact Tension
Tension has strengthened its continuous forms offerings. Tension's King of Prussia facility can expertly print a variety of sizes and substrates, affix cards and labels, and deliver lithographic forms with your preferred folding and cutting options.
Contact an expert at Tension today to see how you can benefit from our continuous forms.