Direct mail works. It's that simple. Knowing how, when and why to use a mailpiece? Not so simple. This series is here to help you gain an understanding of the two most popular direct mail formats – envelopes and postcards.
In our previous blog, we looked at postcard mailings and when to use them. In this blog, we'll visit some of the pros and cons of envelope and postcard mailings.
Go Team Envelope
Envelopes lend direct mail a powerful reputation, and represent a medium that consumers prefer. This is because:
Contents in envelope mailings arrive enclosed, which drives perceptions that the information is valuable and important.
Closed envelopes create anticipation in the recipients, who must wait to receive the mailing before they can open it and discover what's inside.
The envelope itself must be opened, it creates tactile engagement with the recipient – which can be maximized with the use of involvement devices such as Zip Strips, peel off Hot Notes® or unique windows.
On the flip side, envelope mailings take longer to get into the mailstream and to receive feedback in comparison to digital. They're also more costly to create, produce and mail.
Postcards: Your Miniature Billboards
Postcards can provide a powerful platform to maximize your message since they are:
Highly scannable. Copy must be tight and condensed in order to fit on this smaller medium.
A fast read. Due to the limited space involved, most postcards can be read in 2 to 3 minutes.
Often lower cost than other direct mail formats (depending on postage needed).
On the flip side, postcard mailings can seem less personal and less formal than an envelope mailing. They're often immediately recognized as an advertisement, so it's important to use the space wisely and capture your audience's attention quickly with an appealing offer.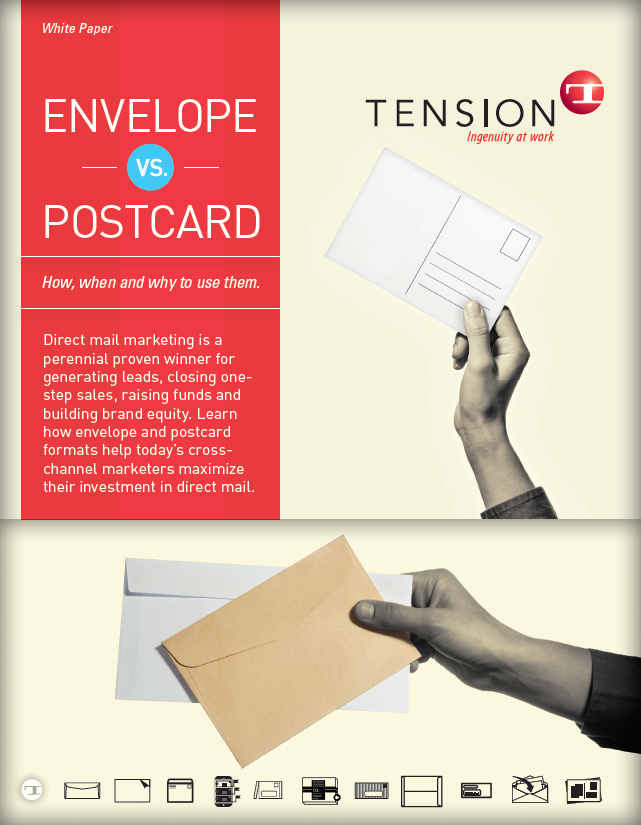 Download Tension's Envelope vs. Postcard White Paper
Need a helping hand to guide you in your direct mail marketing endeavors? Download Tension's "Envelope vs. Postcard" white paper today for helpful tips on how to successfully use a mailpiece in your integrated campaign.
When sending a fundraising appeal or generating new leads, envelopes and postcards are proven tools in your media mix. Contact a Tension Sales expert today to discuss your needs, and discover which option is best for your campaign goals.