"Print Basics" is a series that provides an in-depth look at print, prepress, ink and more.
In our last blog, we provided an overview of flexography printing. Now, let's explore offset lithography, the print process ideal for direct mail.
What is Offset Lithography?
Offset lithography is a popular printing process, responsible for over half of all the printing plates made. While it can be printed in a direct method, the overwhelming majority of printers (around 99%) use the offset method.
How Offset Lithography Works
Indirect, offset lithography printing is where ink is transferred, or "offset," from one roller to another: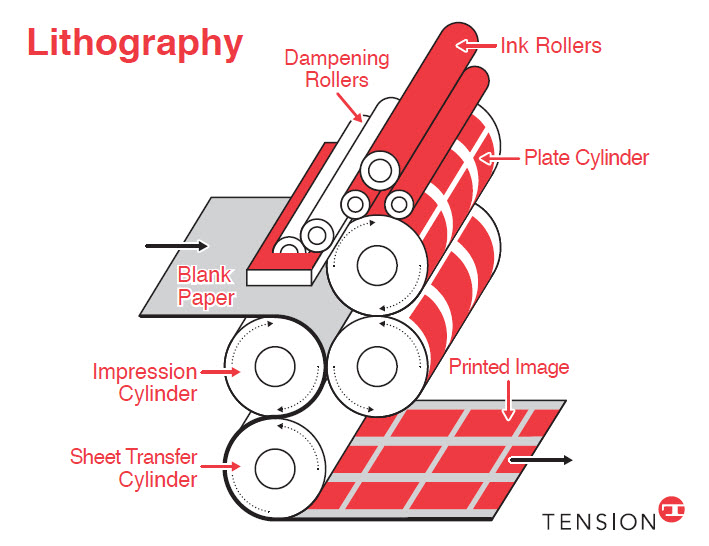 The images and text are put on plates and then onto cylinders on the machine.
Plates on the cylinders are dampened first with water (which adheres to the non-image area of the plate), and then by ink from the ink fountains (which adheres to the image area on the plate).
Then the image is transferred to a cylinder with a rubber blanket covering.
The rubber blanket transfers the images to the substrate or paper.
From the time the image is created on the printing plate when it is applied to the substrate, the plate itself never touches the paper, thus the term "offset" lithography.
Benefits of Offset Lithography
Offset lithography is the ideal choice for direct mail envelopes featuring lots of photographs, images or text, as it offers the highest quality printing.
Better Quality Print — The rubber blanket surface used with offset lithography helps the image conform to irregular printing surfaces. This results in better text, images, and halftones (reproductions of an image where various tones of gray or color are produced through different sized dots) even on rough surfaces.
Longer Plate Life — Because there is no contact between the paper and the printing plate with offset lithography printing, the plate has a longer life.
Image Quality Control — Plates are right reading versus reverse reading so they are easier to read and quality check.
Uses Less Ink — Less ink is required for equal coverage with offset lithography. It also dries faster, and smudging tendencies are reduced.
Offset Lithographic Printing with Tension
Offset lithography can help translate your designs into beautiful direct mail imagery.
Contact us
today to get started.