Open up your mailbox nearly any day and a number 10 envelope is likely one of the first envelopes you see. Not only is it the most common transactional and billing outer envelope, the #10 is a direct mail workhorse. This envelope is often called a "letter envelope" by big-box stores because an 8½ x 11 piece of paper fits in it securely.
#10 Envelope Size
A common #10 envelope size is 4.125 x 9.5 inches
At Tension, we customize envelope sizes based on our customers' requirements – a number ten to one customer may be a few millimeters different than another customer's #10. Often, these small variations allow for improved inserter speed. Number ten envelopes are typically open side, as the envelopes open on the side with the longer dimension.
To learn more about how to capture the accurate measurements of a #10 envelope, click here to download our guide "How to Measure a #10 Envelope".
Standard Envelope Sizes
It may seem ironic that the #10 envelope boasts no mention of 10 in its dimensions. In the 1870s, an envelope manufacturer named William Irwin Martin created a system to identify envelopes by size for a publication called the Stationers' Handbook of 1876. Prior to Martin's system, envelope sizes were determined by envelope manufacturers. This created inconsistencies across envelope sizes. Learn more about the naming conventions of envelopes here.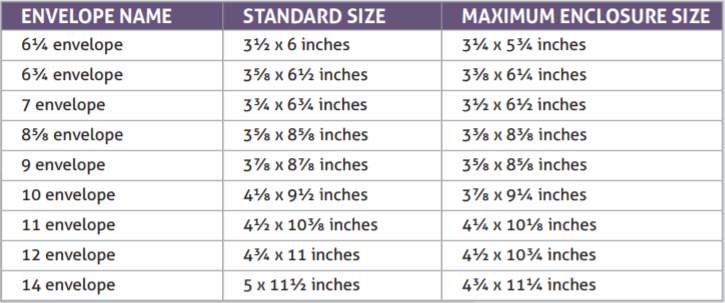 The #10, followed by the #9, is the most frequently produced business envelope. In addition to the number 10 envelope, learn more about other common envelope sizes here. Be careful – to the USPS®, a "letter envelope" has a broad definition, and not just the size of a "standard" 4 1/8" by 9 1/2" mass-produced envelope.
Customizing Your #10 Window Envelope
A window, particularly one that is unique or well placed, can draw the recipient's eye to an important part of your message. Adding a custom window is an opportunity to have your message seen clearly, and to add flair to an otherwise ordinary envelope.
Take a look through our design gallery here to see creative examples of #10 envelopes for inspiration.
What is the Size of a #10 Envelope Window?
The most common size for #10 envelope windows is 1" high to 5" long. Like with envelope size, you can customize window size. The distance between the window and the envelope fold must be at least .5" from the side and from the bottom to meet USPS® requirements. These windows are typically included in #10 envelopes that allow a recipient's address to show for bills and statements.
The Incredible, Versatile #10
The advantages to a #10 envelope are numerous: it is durable, versatile, customizable and has plenty of room for creativity. Having an eye-catching mailpiece remains key to making sure that your message is noticed by the recipient. You can capitalize on this opportunity, even on transactional mailpieces.
More information on how to elevate the #10 envelope can be found on our website, custom #10 business envelopes.
Contact Us
Contact an expert at Tension today to discuss how our #10 envelopes can help deliver the results you want for your next campaign.