When direct mail and digital marketing are combined, marketers see a 68% increase in website visits and a 40% increase in conversions. Starting Aug. 1, integrated marketers have will have another reason to cheer with the USPS® 2020 Mobile Shopping promotion.
Promotion Registration: June 15, 2020–Dec. 31, 2020
Promotion Dates: Aug. 1, 2020–Dec. 31, 2020
Discount: 2% of eligible postage for USPS Marketing Mail.
Promotional Details
The 2020 Mobile Shopping promotion encourages marketers to combine mobile technology with direct mail to create a convenient method for customers to do their online shopping, and offers a 2% discount for approved mailpieces. In order to qualify for the available discount, eligible mailpieces must include:*
Mobile Print Technology – All qualifying mail must contain mobile print technology, such as a quick response (QR) codes, digital watermark or augmented reality (AR) code that leads to a completely mobile optimized site.
Mobile Print Technology Placement – The technology can be on the inside or outside of the mailpiece.
Directional Copy – The mailpiece must contain prominently displayed text near the mobile print technology or an image that provides directions regarding how to scan the print technology with specific information about the landing page.
New for 2020: There are several new requirements for this year's promotion, including pre-approval for mailpieces and updated website/digital requirements. Find details for all new requirements for the USPS 2020 Mobile Shopping Promotion in our new white paper.
Related Tension Products
Give your offer a boost with a large envelope size. A larger direct mail envelope such as a 6×9 or a 9×12 can command attention with its size alone, and leaves plenty of real estate for you to include your choice of mobile print technology and corresponding directional copy.
Or, make your directional copy shine with a spot embossed envelope with foil – a spot of brilliant, lustrous foil can help attract attention to your text.
2020 USPS Promotions and Incentives Updates from Tension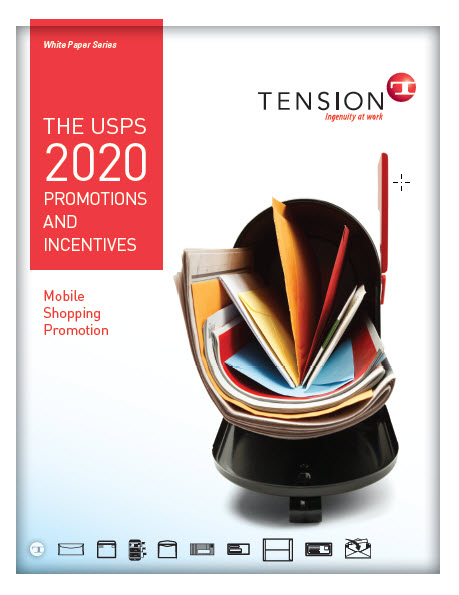 Tension is offering easy-to-read overviews of the USPS promotions, available to you. Sign up for our updates here. You can also find details on the USPS 2020 Promotions and Incentives on our website.
2020 USPS Promotions Information Sheet
Do you need a quick overview of the promotions and important dates for each? Click here to download.
USPS 2020 Mobile Shopping White Paper
Our USPS 2020 Mobile Shopping promotion white paper gives a detailed look at how to qualify through your bills and statements. Access download here.
Program Requirements for the USPS 2020 Mobile Shopping Promotion
Be sure to check full program requirements here. The USPS gives all final approvals and including one of the design elements mentioned above does not automatically qualify you for the promotions. You can also consult the USPS for full details on the Mobile Shopping promotion at mailingpromotions@usps.gov.
Contact Tension
Get double duty out of your direct mail envelope by including a link to a mobile optimized site with the USPS 2020 Mobile Shopping promotion. Contact a Tension expert to explore some ways you can alert your customers to a mobile shopping experience with your mailpiece.
*All approvals must come from the USPS. The information presented here is for illustrative purposes only.