Last week, we looked at ways to target your billing and statement audiences with the help of the 40/40/20 Rule. As a refresher, the 40/40/20 Rule states that 40% of efforts should be dedicated to the recipients or list, 40% of efforts toward the offer and 20% on the creative and copy. Your customers who receive your bills and statements are the list, and your offer is communicated through your transpromo material. Let's take a look at how to frame offers and creative elements on your transpromo mailpiece as part of an integrated campaign.
The Offer: What is the Product or Service Being Promoted?
The 40/40/20 Rule states the offer makes up 40% of your marketing efforts. Your offer is the proposition you make to your customers to motivate them to take action. A strong offer should:
State your marketing goals in terms of what you'd like to achieve.
Use a customer-centric point of view.
Create a sense of urgency.
Give the customer a compelling reason to act.
Feature a call to action.
For example, an offer that states "50% off clearance items" is more compelling and creates a greater sense of urgency stated as "50% off clearance items while supplies last. This weekend only."
Offers included in your statement mail can effectively be integrated to other marketing channels through content marketing. Here's a few examples:
Blogs – Create related blog content around your transpromo offer to detail offer benefits. Then, include a personalized URL (PURL) on the statement to guide customers to the offer in a way that is trackable for marketing purposes.
Social – Promote your offer on social media through advertisements. You can pre-match your customers' email addresses on social channels, such as Facebook, and send them ads that reinforce and further promote your offer. Then, you can follow up with your transpromo mailpiece that features the same offer.
Video – Video ads generate higher engagement. Send a video advertisement to your audience on social media channels to get a better response1 to your offer.
The Creative: Using Effective Direct Mail Copy and Imagery
Your creative elements make up the last 20% of your 40/40/20 Rule marketing efforts. When crafting your copy and imagery, here are a few things to keep in mind:
Keep it simple: Make your copy clear and concise. Clever language is cute but can be confusing. Your audience needs straight forward direction.
Keep it singular: Feature a single call to action (CTA). More than one can cause confusion. Also, the use of color, especially warm colors like red and orange, can draw people to your CTA copy.
Keep it personable: People are naturally attracted to other people. Use images of people when possible.
Keep it visible: You have a short amount of time to get attention and response. Keep your creative in the upper part of the design/email/webpage/mobile formats so it will immediately grab attention. Consider the 3:33 rule.
Keep it numerical: Numbers are prime examples of clear and concise communication. Use numbers whenever possible.
Another thing to consider are the seven emotional copy drivers that impact consumer behavior — fear, greed, guilt, anger, exclusivity, salvation and flattery — and how they could motivate your audience.
Download Tension's Guide: The Art & Science of Envelope Design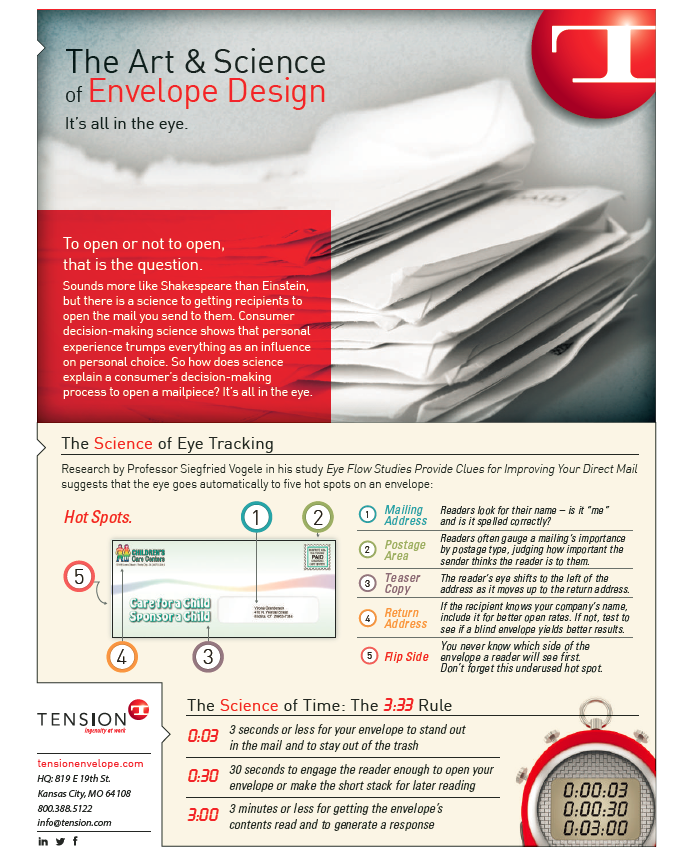 Did you know there are five hot spots on an outer envelope that research has shown to improve your mail impact? Discover how you can use art and science to incorporate them on your transpromo mailpiece with tips from our guide, The Art & Science of Envelope Design. Download it here.
Tension has developed effective transpromo mailpieces for our customers for generations. Contact us today and let's discuss how you can create one for your business.
Source
1 – Erica Switzer, Vice President DM 2.0, "7 Integration Technologies to Seamlessly Track Direct Mail Effectiveness & Enhance Results," NPF Presentation, May 2019.