As a marketer, you make calculated, strategic decisions aimed at reaching your goals. Deciding upfront whom to target, how to send your message, what is the best way to track results and how to earn postal discounts can help set the course for successful marketing.
The USPS® has available resources and programs that may prove useful to your mail campaign in terms of your targeting, distribution, tracking and budgetary goals.
Let's explore some useful USPS offerings.
Every Door Direct Mail
Every Door Direct Mail® (EDDM®) is a service that simplifies and offers marketers an affordable option to target an area or neighborhood. Instead of individually addressing each mailpiece, a letter carrier delivers it to a "Postal Customer." EDDM is fast, effective and uses USPS Marketing Mail® rates.
There are two types of EDDM mailings:
EDDM – Retail*: Small businesses, restaurants, retailers, realtors and political campaigns sending between 200-5,000 mailpieces per day per ZIP CODE™ can drop off their mailing at the Post Office™ for an EDDM – Retail mailing. No permit is required.
EDDM – BMEU: Large volume mailers can use an EDDM – BMEU (Business Mail Entry Unit) by entering their mailings through the Business Customer Gateway. A bulk mailing permit is required for payment, there is no per day limit on the size of the mailing and multiple ZIP CODES can be selected per day.
*Bonus: The Postal Regulatory Commission (PRC) recently approved an EDDM – Retail promotion that gives EDDM – Retail mailpieces entered between Aug. 1 and Sept. 30, 2020 a 10% reduction off the current rate.
Informed Delivery
Informed Delivery® is a feature that provides users with digital previews of their household mail through a notification email. With Informed Delivery, mailers have opportunity to share offers, URLs and other interactive content related to the mailpieces in the notification email, providing multiple channels for distribution of their marketing message.
Informed Visibility
Informed Visibility® Mail Tracking & Reporting (IV®-MTR) is a free tracking service that provides mailers notifications as the Intelligent Mail barcode (IMb) on each mailpiece, bundle, tray, sack, and pallet is processed and scanned throughout the postal network. It links real-time data to your mailpiece, allowing marketers to build integrated campaigns which link the timing of mailings with targeted emails and social messages. Imagine how much more effective a mailpiece offer would be if it was immediately followed by a similar digital and social media ad?
USPS Promotions and Incentives
USPS encourages mailers to drive engagement with the mailpiece through promotions and incentives. Program requirements may vary by each promotion. Download Tension's USPS Promotions & Incentives white papers for details.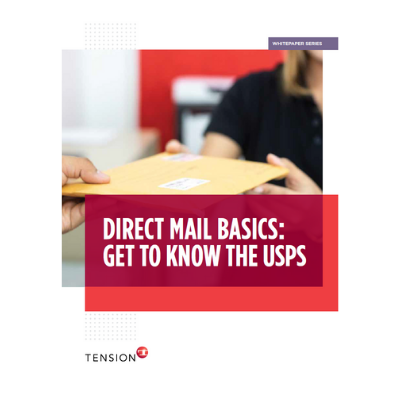 Getting to Know the USPS White Paper
Become better acquainted with the USPS and its programs with our white paper, "Get to Know the USPS." Click here to download.
Contact Us
Ready to get started? Contact us today.