In direct mail, we often reference the 40-40-20 Rule: 40% of efforts are dedicated toward your list, 40% toward your offer and 20% to the creative components. Your offer is a critical component of your direct mail package, as it drives the behavior you seek from your prospects, customers and donors. Essentially, the right offer motivates the right audience to act.
When crafting your offer, a focus on 1) business objectives and 2) strategy can help yield the best results for your direct mail campaign. In this post, we'll discuss how business objectives relate to your offer.
What is an Offer?
An offer is a package of elements working together that are designed to drive action. In doing so, it lets your audience know what's in it for them and communicates a reason for action.
A Focus on Specific Business Objectives for Your Offer
An offer can be viewed as the link between your business objectives and your intended audience. When developing your offer, consider the goals you are trying to achieve. Do you need to expand your customer base, or strengthen existing relationships within it?
Below are a few specific business objectives in relation to prospects, customers or donors to think about when creating your offer:
Prospects
Contact an otherwise difficult-to-reach audience
Saturate a geographic area
Generate qualified leads
Customers
Welcome a first-time buyer with a special offer
Increase website/retail store traffic
Cross-sell and upgrade existing customers
Increase average order size
Donors
Reactivate inactive donors
Say thank you for your business or donation
Send holiday greetings
Send a personal letter for donor engagement
Reach out after a fundraiser or other event
Invite donors to an annual fundraising event
Once you've defined your business objective, you can begin to strategize on how to best communicate the offer to your audience. Stay tuned for part 2 of this blog, where we'll discuss strategy with offer development.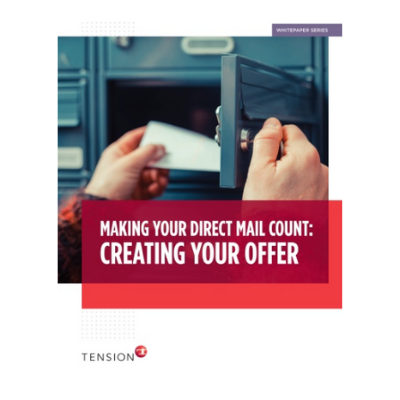 Download Our White Paper
Download our "Making Your Direct Mail Count: Creating Your Offer" white paper from our Direct Mail Basics series for an in-depth look at creating your direct mail offer.
Contact Us
How can your mailpiece best help deliver your offer? The experts at Tension can help. Contact us today to start the conversation.