Copywriting is a skill; a professional copywriter can build an entire career on this talent. Effective use of words — and placement of them — can vary depending on the medium used to deliver the message. When working with an outside party to develop copy, someone with experience in direct mail or familiarity with print mediums may benefit your brand. Review your direct mail copy closely and keep these key ideas in mind.
Write and design to generate response, not win awards.
Direct mail writers and designers know from experience and testing that if it looks "too nice," it may not be effective at drawing an audience to read or scan the material. Disturbing and disruptive are two words often used to describe direct mail design techniques such as cutting corners off reply cards or including bright yellow bursts and other visual violators to highlight a benefit, offer or call-to-action. An experienced writer can provide creative direction on the initial copy, specifying which words or sections the designer should highlight.
"Sell the sizzle, not the steak."
Customers buy a product/service because of the benefit it provides, not the problem it solves or the need it fills (i.e. a description of the product specifications or features). Benefits sell, features describe.
Keep words, sentences and paragraphs short for faster and easier scanning.
Words: 75% to 80% five characters or less. Sentences: 1.5 lines or less. Paragraphs: 6 lines or less. Research shows that concise copy is key to capturing the recipients attention. The average word count on envelopes has decreased by 124.22% in the last 20 years. This means you may wish to use your words wisely and remove unnecessary language.
Lead with a major benefit, the one most appealing to your targeted audience.
Use it in hot spots such as headlines, envelope teaser copy, the first sentence of a letter.
Using pronouns and numbers
It's recommended to use the word 'you' twice as often as 'I', 'we' or your company name. Also be sure to use numerals rather than numbers written as words. 1,000 is easier to scan than one thousand.
Be specific.
Specifics sell and build credibility. For example, this copy for a waterproof jacket supports benefits with specifics:
2.5-layer waterproof/breathable H2No® Performance Standard shell with
100% recycled nylon face
Two-way-adjustable hood with a laminated visor rolls down and stows with a simplified cord-and-hook design
Apply the 3:33 Rule
You have about 3 seconds to snag a reader's attention after they pull your piece out of the mail. Then you've got 30 seconds to get your mailpiece opened and the reader further involved. Finally, you've got 3 minutes for the reader to review the envelope's contents and respond. This means every word doesn't get read and every photo or illustration doesn't get noticed, which is why hot spots and eye flow are so important.
Download Our Whitepaper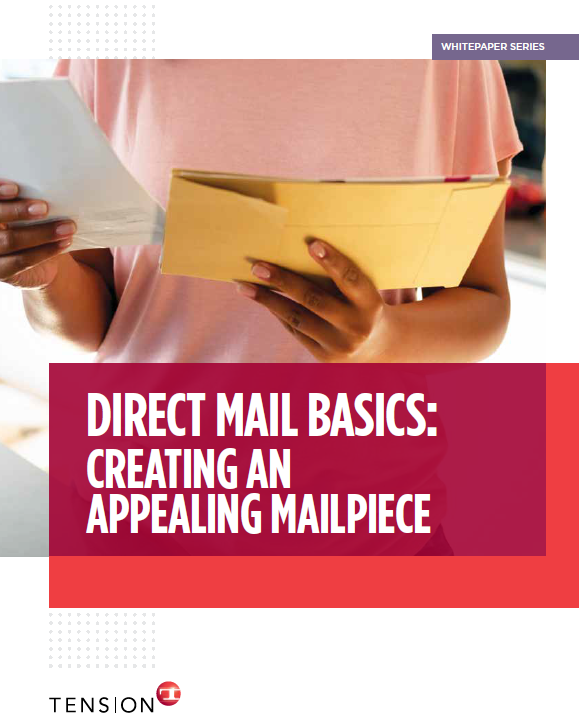 Download our "Creating an Appealing Mailpiece" white paper from our Direct Mail Basics series for more details and tips on direct mail list know-how for your next mailing.
Tension Corporation is a global leader in envelope products, packaging and packaging automation solutions. It is a privately held and operated, international company based in Kansas City, Mo. Tension manufactures billions of envelopes annually and their envelope division serves a variety of industries, including financial, insurance and direct marketing, plus they work directly with third-party providers. The packaging and automation division of Tension provides software, consumables, automation and service and support for fulfillment to the e-commerce and pharmaceutical industries.