Special Olympics. National Geographic Society. Feeding America. American Cancer Society. World Wildlife Fund.
These are just a few of the representing organizations who will present their ideas at the Bridge Conference on July 10-12, themed "Change the World with Ideals." We're looking forward to attending and learning from these best-in-class nonprofit leaders.
This year marks Tension's fourth time at the Bridge, and each year we've returned home refreshed and energized from insights we've gained. Whether it's learning in the classroom settings, in the larger keynotes or conversing in the exhibit hall, Bridge Conference organizers make it easy for attendees to get the most out of their experience.
Bridge Classes: Insights for All
Classroom learning at the Bridge Conference is second to none. The content is top-notch, there's such a variety of topics that there's something for attendees of all backgrounds – agencies, consultants and marketers – and each class is grouped under a relevant learning track. Here are a few that caught our attention:
2019 Bridge Conference Learning Tracks
Telling Your Story: The Offer, Copy and Images – storytelling is both an art and science, and this track describes ways to create stories that can be repurposed time and time again. Yep, integrated marketing is where it's at.
Acquiring Donors – this track describes tips for learning how to infuse direct mail, online recruitment and social media in your donor acquisition strategy. Our interests are officially piqued!
Building Your Marketing Programs – this learning track puts it all together in terms of taking your story and putting it to use to acquire and retain donors.
And, if you're unsure of which class to attend, you can consult with Bridge Conference veterans at "Share a Cup of Joe with the Bridge Conference Pros!" for help on how to plan your Bridge.
Inspiring Keynotes
Tim Shriver, Chairman of the Board, Special Olympics, will deliver his keynote, "The Inclusion Revolution: How Our Country's Most Excluded Citizens Are Awakening a New Hope," on Thursday, July 11. In the past, keynotes at the Bridge have delivered in terms of highlighting themes that hold universal, inspiring lessons. We are looking forward to hearing from the Chairman of such a respected organization and one who has a personal, familial connection to the organization through his mother and Special Olympics founder, Eunice Kennedy Shriver.
Exhibit Hall Opportunity: Visit Tension Corporation in Booth #501
Going to #Bridge19? This year marks Tension's 4th year exhibiting at the show, and we look forward to more networking opportunities with other exhibitors, leaders in the nonprofit community and especially our customers who we meet at our booth. Visit us in Booth #501, and let's discuss how mail can help you make a lasting impact on your donors and your organization.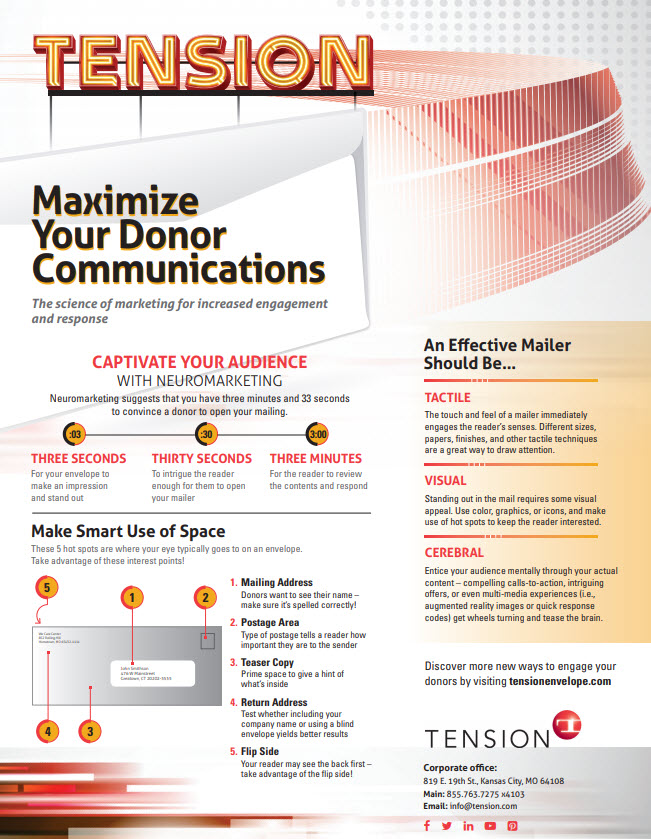 Download Tension's Guide: Maximizing Donor Communications
How you communicate with donors can have a big impact on how they respond to your fundraiser. Download our guide and learn how to captivate your audience using art and science.
Let's "change the world with ideals" with insights from the 2019 Bridge Conference. We'll see you in Tension Corporation's Booth #501!