Mailers: Start your engines! This year's National Postal Forum (NPF) is fast-approaching. And you better get your pedals to the metal, because there are lots of insights awaiting to drive your mail campaigns forward.
OK, now that we got some of our NPF "Growth Driven: Fueling Your Mailing and Shipping Success" themed puns out of the way, let's get down to business: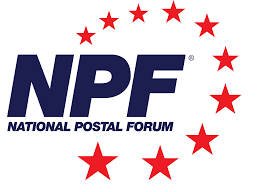 When is NPF 2019?
May 5-8, 2019
Where is NPF 2019? Home of the Indy 500 and source of this year's fun theme, NPF 2019 will be held in Indianapolis, Indiana. Check out our NPF event page for more details, including venue information.
How Can NPF Fuel My Mailing and Shipping Success?
1. USPS Keynotes
The National Postal Forum is the premier mailing and shipping conference that works directly with the United States Postal Service to provide the most comprehensive educational and networking platform for meeting the needs of the industry. This means we'll hear directly from USPS® leaders, including Postmaster General Megan Brennan at the keynote address and Chief Customer and Marketing Officer Jakki Strako on the current state and future vision of the USPS.
2. Classes on Integrated Direct Mail
Marketers know that mail works and shines when integrated with digital. We've listened to how technology makes direct mail a stronger communication tool in past NPF classes, and we're looking forward to hearing more this year. Classes for 2019 such as "Emerging Technologies in the Mail" and "8 Integration Technologies to Seamlessly Track Direct Mail Effectiveness and Enhance Results" are just a few of the ones that caught our eye. We'll be sure to pass any and all key insights along to our customers.
3. Expert Advice in Your Region
The PCC Reception: PCC Receptions are a Tension favorite, and provide a casual setting to talk shop with postal leaders and mailers in your region. This year's reception will be held at the Indiana State Museum, and attendees are encouraged to bring their PCC lapel pins to exchange with other members.
Tension Booth #414
Stop by Tension's Booth #414 This year, Tension will have attended NPF for more than 50 years. We're looking forward to this year's show once again, and all the mailing and packaging insights to be found there. Let us know if you plan to attend the show so we can say hello or stop by Booth #414. See you in Indianapolis!