The Tactile, Sensory and Interactive (TSI) promotion from the USPS® encourages mailers to integrate bold techniques and treatments on their mailpieces in an effort to increase response rates. Unique visuals, sounds, scents, textures and sometimes tastes, can make for a memorable mailpiece that will be sure to stand out. The TSI promotion is an opportunity to engage customers while potentially earning mail discounts. The USPS 2022 TSI promotion is offering mailers who include specialty inks, sensory treatments or interactive elements in their mailpiece a 4% mail discount.
Promotion Registration: December 15, 2021–July 31, 2022
Promotion Dates: February 1, 2022–July 31, 2022
Discount: 4% of eligible postage for USPS Marketing Mail® letters and flats and Nonprofit USPS Marketing Mail® letters and flats.
Promotional Details
The TSI Promotion features specialty ink, sensory treatments, and interactive element categories.
Specialty Inks—The specialty inks must enhance the engagement and value of the mailpiece. Unique properties of specialty inks must be both visible and distinguishable on paper. There are several qualifying types of ink for this promotion.
Sensory Treatments—Sensory elements such as sight, sound, smell, touch and even taste can heighten the experience of the mailpiece for the recipient.
Interactive Elements—The mailpieces must include an experience that engages the recipient with dynamic effects by the use of folds or other dimensional elements. The mailpiece must include elements that the recipient can physically manipulate.
What's New for 2022
The USPS has increased the discount percentage from 2% to 4% for 2022. The TSI Promotion Office has a new address where mailers need to send a final hardcopy of samples submitted for the promotion to qualify:
US Postal Service/TSI Promotion Attn: Laura Ambrogio, Program Manager
PO Box 1860
Bridgeport, CT, 06602
Be sure to check all program requirements* here.
Related Tension Products
This promotion lends marketers a chance to infuse creativity (potentially through scents!) in their mailpiece. Here are some Tension products that can qualify for the discounts offered through the TSI Promotion:
2022 USPS Promotions and Incentives Updates from Tension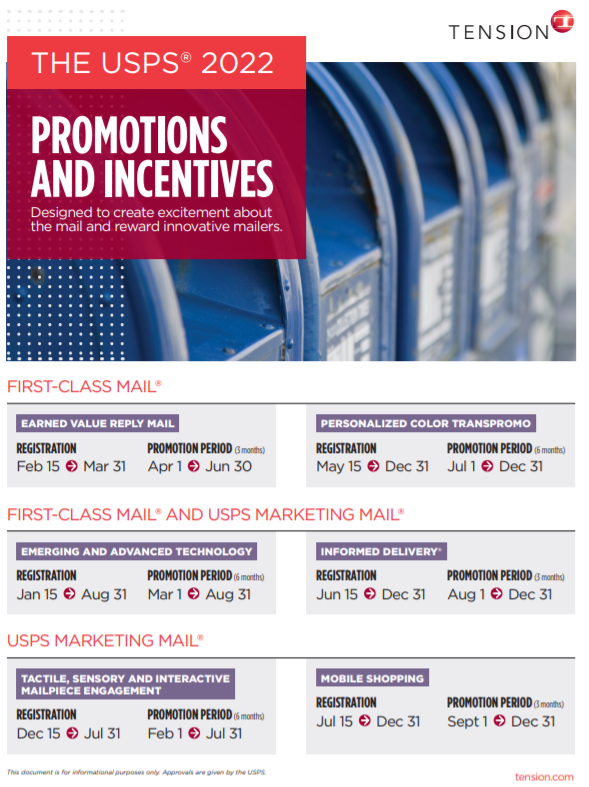 Tension is offering easy-to-read overviews of the USPS promotions, available to you. Sign up for our updates here. You can also find details on the USPS 2022 Promotions and Incentives on our website.
Download our TSI Promotion Whitepaper
With each new promotion, we will release a new whitepaper. Download our TSI whitepaper here.
Two-Page Overview of the 2022 USPS Promotions
Do you need a quick overview of the promotions and important dates for each? Click here to download our helpful two-page overview.
Be sure to check full program requirements* here. The USPS gives all final approvals and including one of the design elements mentioned above does not automatically qualify you for the promotions. You can also consult with the USPS for full details on the Tactile, Sensory and Interactive Mailpiece Engagement promotion at tactilesensorypromo@usps.gov.
Contact Tension
A Tension Sales expert can help you explore how to incorporate the USPS 2022 Tactile, Sensory and Interactive Mailpiece Engagement Promotion in your next mailing. Contact us to start the conversation today.
*All approvals must come from the USPS®. The information presented here is for illustrative purposes only.