The Earned Value promotion allows mailers to earn a discount on eligible mailpieces by sending a Business Reply Mail (BRM), Courtesy Reply Mail (CRM) or Share Mail® envelope inside a mailing. This gives your customers a convenient method of replying and can help drive more business.
To qualify for the Earned Value promotion the mailpiece must meet a series of guidelines set in place by the USPS®.
Promotion Registration: February 15, 2022–March 31, 2022
Promotion Dates: April 1, 2022–June 30, 2022
Available Credit: $0.02 credit for each BRM, CRM, and/or Share Mail piece returned.
Review and Acceptance Period for Credits: July 1, 2022–September 15, 2022
Credit Redemption Period: July 1, 2022–December 31, 2022
Expiration Date for Credits: December 31, 2022
Promotion Details
With the Earned Value promotion, once mailers send off their BRM, CRM or Share Mail®, they can then apply the credits earned from the mailpieces returned into the mailstream to future mailings using presort and automation First-Class Mail® and USPS Marketing Mail®. Credits may be applied to postage for qualifying First-Class and Marketing Mail letters & flats and must be used by December 31, 2022.
Related Tension Products
This promotion gives bill, statement and fundraising mailers an opportunity to earn mail credits by encouraging recipients to reply with mail. Here are two products from Tension that could serve as idea starters for you:
ALTA envelopes – With an innovative and reusable design, the ALTA can be sent to and easily returned by customers, while communicating your commitment to sustainability. These eco-friendly, reusable reply envelopes can potentially earn you mail credits under the Earned Value Reply Mail promotion (as long as the reply piece has an IMb on it for trackability and meets all program requirements).
#9 CRM envelopes – Although relatively small in size, a #9 Customer Reply Mail (CRM) envelope is designed to remain strong and sturdy during every step of an envelope's lifecycle
2022 USPS Promotions and Incentives Updates from Tension
Tension is offering easy-to-read overviews of the individual USPS promotions, available to you. Sign up for our updates here. You can also find details on the USPS 2022 Promotions and Incentives on our website.
Two-Page Overview of the 2022 USPS Promotions
Do you need a quick overview of the promotions and important dates for each? Click here to download.
USPS 2022 Promotions and Incentives White Paper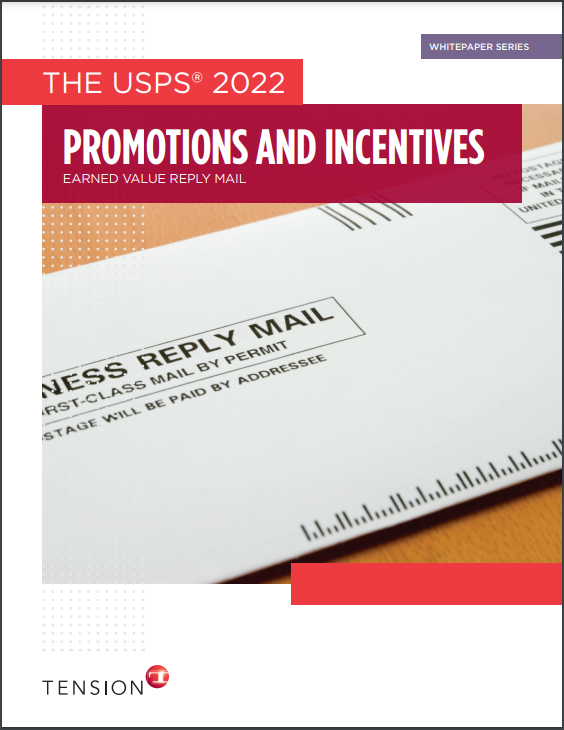 Explore details and program requirements for this promotion in our white paper. Click here to download.
Be sure to check full program requirements here. The USPS gives all final approvals and including one of the design elements mentioned above does not automatically qualify you for the promotions. You can also consult with the USPS for full details on the Earned Value Reply Mail promotion at earnedvalue@usps.gov.
Contact Tension
The Earned Value Reply Mail promotion is happening now. A Tension Sales expert can help you explore how to incorporate the USPS 2022 Earned Value Reply Mail promotion in your next mailing. Contact us to start the conversation today.
*All approvals must come from the USPS®. The information presented here is for illustrative purposes only.