Direct mail delivers your message with an impact that adds up on Election Day. The Postal Service's dedicated political mail website, Deliver the Win™, gives a comprehensive overview about using direct mail; this blog highlights key points.
Political Direct Mail
Turn that Glance into a Vote
There are a number of ways to win with political mail, even in today's digital age.
In this section, we discuss why political mail is an essential part of your campaign. Political postcards and other mailers are considered credible, persuasive and impactful. And while direct mail is considered a powerful tool of integrated marketers across industries, in the case of political campaigns, it can amplify your message and propel your candidate to victory.
Click here to move to how political mail works, namely, neuroscience. Neuroscience is a broad term that covers the scientific study of the brain and the nervous system. Neuromarketing is a specific kind of neuroscience that combines the study of the human brain with marketing techniques. It can help us understand why political direct mail can be more impactful than other marketing mediums.  For example, why direct mail is easier to understand and why it is more memorable than digital media. It is also more motivating and persuasive. Lastly, it can help explain why digital ads elicit higher responses when preceded by physical ads.
Next, you can dig deeply into whom to target, and the power of using geographic and demographic targeting. Women, millennials, swing voters and baby boomers each have identifying characteristics that you can use to target your political mailing and leverage your marketing dollars successfully.
Lastly, we discuss what to include in your political mailings to get the voter to cross the digital divide and visit your website for more information. Actions like listing your candidate's website and providing helpful information about how, when and where to vote are key components of a winning campaign. Additionally, using a QR code, variable printing and PURLs are easy methods to use technology to amplify or personalize your candidate's position.
Download Tension's Guide: Maximizing Donor Communications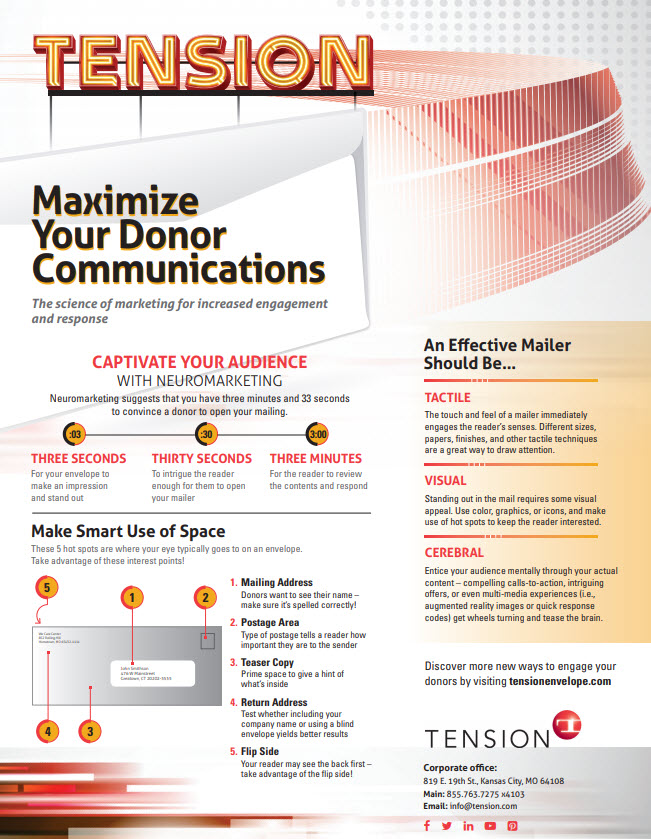 How you communicate with donors can have a big impact on how they respond to your fundraiser. Download our guide and learn how to captivate your audience using art and science.
Why Direct Mail is an Essential Part of Your Political Campaign
Political budgets can be tight, and it may be tempting to dedicate your dollars to digital. However, direct mail helps create a powerful path to the ballot box, as outlined in this USPS® and American Association of Political Consultants study. The study shows that:
Mail is considered the most credible source of political outreach.
Mail is considered a highly persuasive form of political outreach.
Nearly half of voters find mail had an impact on their voting decision. (Yes, even millennials!)
Direct Mail is Credible
Good direct mailpieces help cut through noise, capture attention, and compel the recipient to action. In the case of political mail, the call to action is a vote for your candidate.
Direct mail's effectiveness in campaigns runs deep. It is the most credible form of political outreach, with 68% of survey responders ranking it as one of the most credible sources. It's a channel that voters trust more than any other.
Direct Mail is Persuasive
In crowded fields, good marketing can have a big impact. Fifty-five percent of voters say mail has helped them decide how to vote. Take the case of Beth Bernstein, a Democratic candidate for the South Carolina House District 78, as summarized by the USPS.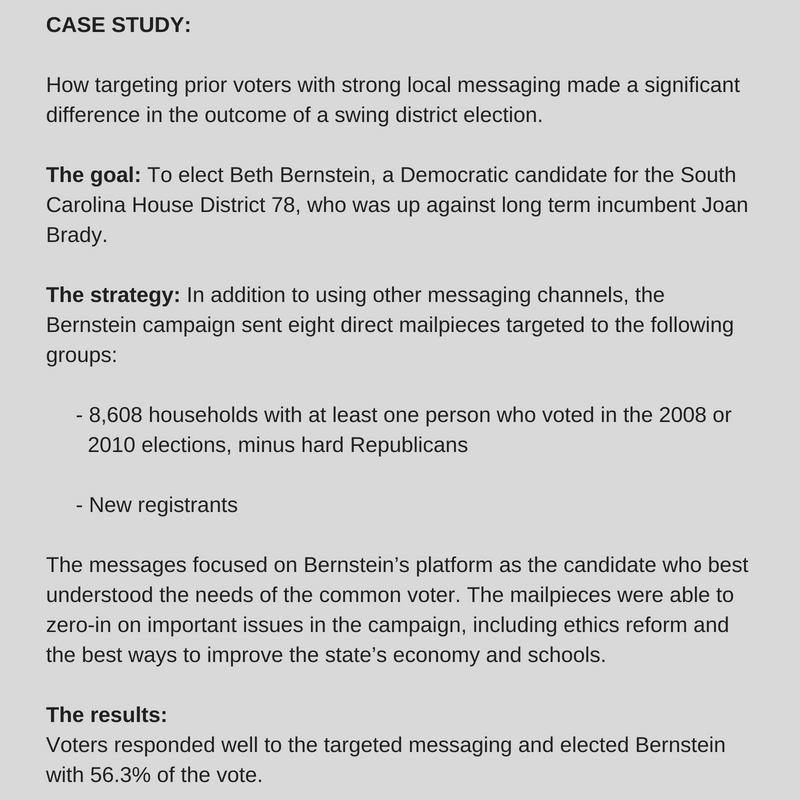 Political Direct Mail is Impactful
The information in your direct mailing goes a long way. Eighty-six percent of voters check their mailboxes at least five times per week, and 79% of heads of households sort mail at their first opportunity. Unlike a 30-second TV spot, mail lingers. It's placed on kitchen tables, desks and counters, ready to be picked up and read again.
And yes, this includes millennials. While they are more mobile than older voters, they are sufficiently anchored to an address — 91% will be living at the same address that is on their voter registration on Election Day. Seventy-nine percent check their mailbox at least five times a week, 66% do so daily according to a USPS direct mail survey.
Furthermore, the same survey found that for millennials political mail is more important than email and equally important as online ads. And because we know that direct mail has a longer connection with the recipient's brain than digital advertisements, we can start to see the impact of budgeting for direct mail.
How Does Direct Mail for Elections Work So Well? Neuroscience!
Neuroscience is a broad term that covers the scientific study of the brain and the nervous system, specifically, how the nervous system, a complex bundle of nerves and specialized cells, transmits signals from the brain to different parts of the body. Neuroscientists help us understand human emotions, mental processes and behavior, and the science behind behavior and cognitive functions.
"Neuromarketing" takes these scientific concepts and applies them to marketing. We can measure brain activity, biometric data, facial expressions and other consumer reactions to reveal how consumers respond to different ads, messages, products, and even candidates.
As the channels for reaching consumers grow, so does the importance of neuromarketing. Neuromarketing helps us determine which mediums influence voters, giving us clues to develop the right media mix.
What can neuromarketing tell us about the effectiveness of direct mail? The USPS cites results from two studies, "A Bias for Action: The Neuroscience Behind the Response-Driving Power of Direct Mail" by Canada Post and "Why Ad Sequencing Matters" by Temple University and the USPS Office of Inspector General. These studies determined that:
Direct mail is easier to understand and more memorable than digital media.
Direct mail is more motivating and persuasive than digital media.
Digital ads elicit higher responses when preceded by physical ads.
Neuromarketing's Bottom Line
Political direct mail works. The findings are clear: Readers build deeper connections with messages they can see and touch.
Through neuromarketing, we have learned that interaction drives action. Combining a digital campaign with direct mail can help communicate your campaign message faster and more persuasively. With direct mail in the mix, you have a better chance of getting voters to actually vote – for your candidate or issue!
Getting a Bullseye with Effective Political Campaign Targeting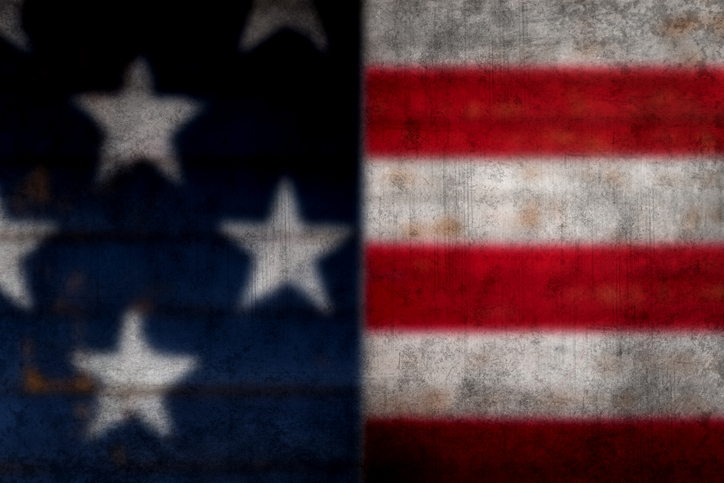 The voters you're trying to reach are diverse and dispersed. How can you target the right voters with the right message? The USPS® has researched targeting strategies that can help your candidate in the next election, and they include geographic and demographic targeting, along with "get out the vote" activities—including some that focus on absentee voters.
Geographic Targeting
USPS direct mail professionals can help you target political mailings based on area and specific political districts. Coupled with your campaign's data, you can select recipients and tailor your message directly to your audience.
Demographic Targeting
Along with geographically targeting voters, you can target specific demographics. Through research conducted by the USPS and their partners, we have key takeaways from many demographics:
Women:
According to the census bureau and as stated by the USPS in their "Reaching Women Voters", the majority of eligible voters are woman. Women generally trust mail over online and TV ads, and trust mail more than men do. Furthermore, 63% of women say political mail made them an informed voter.
Two-thirds of women voters said they are likely to read a piece of mail if it includes: biographical information on the candidate, information on the candidate's positions, and the candidate's voting record or past statements.
Swing Voters:
Political mail can persuade and motivate swing voters. Swing voters are more likely to rate political mail as more helpful than TV or digital ads. Nearly a third of those surveyed considered voting early before the 2016 election but were unaware of voting options. The knowledge gap of swing voters presents a key opportunity to send political direct mail that not only highlights your candidate but also includes key information about how, where and when to vote.
Gen X and Baby Boomers:
Generation X (ages 36 to 51) and Baby Boomers (ages 52 to 71) represent a significant target for political campaigns, together accounting for 57% of eligible voters. For those surveyed, political mail spurs conversation with friends and family, as well as online research. From a 2016 USPS report:
Political direct mail has a tremendous opportunity to get the word out about your candidate, both to the recipient and their circle.
Millennials:
We've seen plenty of evidence in contrast to the common misconception that millennials do not respond to anything that is not electronic. Millennials love direct mail —they're more likely to read a piece of direct mail than any other age group!
The majority of millennials have been living at the same address long enough—and checking their mailbox frequently enough—to be good targets for political mail. And as with other demographics, millennials tell us that political mail often serves as a conversation starter. After reading political mail, they talk to their family or friends about it.
When comparing national, state and local elections, older millennials (between the ages of 26 and 34) are more likely to rate political mail as more important in down-ballot, or state and local elections than national.
Get Out the Vote
Campaign research can help you pinpoint which voters need a direct mail reminder that it's time to vote, and which voters are less likely to go to the polls. With some potential voters, a direct mail nudge toward an absentee ballot may be just the encouragement they need!
This information can be included on a mailing about your candidate. Remember—easy to understand information and a clear, concise call to action is critical.
Source
"I have used political mail to…" chart from the USPS Infographic "How political mail influences Generation X and Baby Boomers.
Cross the Digital Divide with Your Political Postcard and Direct Mail 
Linking direct mail to digital marketing helps make powerful connections with voters.
What is a Political Postcard?
Sometimes referred to as campaign postcards, political postcards act as miniature billboards that voters can touch, feel and even interact with.
Political postcards can provide a powerful platform to successfully promote candidates, referenda and campaigns. According to a recent survey, the most memorable form of political advertising is mail: political postcards can take this impact a step further by communicating your messages to voters in a scannable form.
While a political postcard is an ideal way to highlight your candidate's platform and stance on key issues, given the sheer number of issues, you may be worried about having enough space to give the voters the information they need with a political postcard or even larger direct mailpiece.
We also know that voters want information about where, when and how to vote. Your candidate's district may cover multiple polling locations, so directing your constituents online is an ideal way to make sure they have the correct information.
Powerful Connections
To overcome these space and information constraints, create a direct line from your mailer to the information online. Doubtful that voters will take the time to follow your URL? Research says otherwise. According to a recent study by the USPS and the American Association of Political Consultants, 66 percent of Millennials are likely to research a candidate and 54 percent will visit the candidate's website after receiving political mail. This holds true for other age groups as well. Help registered voters connect the dots from paper to digital.
When designing your political campaign mailer, consider the following tactics:
Be obvious. Highlight your website clearly, even multiple times.
Cover key issues and encourage the reader to go to the website for more details.
Make it easy. Is your candidate's website difficult to type or quite long? Consider a URL shortener for their website or a visual QR Code® that the voter can scan for instant transport to your candidate's site.
Be a resource. Voters often don't know when, how and where to vote. List websites where voters can identify their district, candidates, and key voting deadlines. We've read that 81% of registered voters want to receive mail when they don't know about absentee ballot deadlines or registration deadlines!
Start a conversation. Direct voters to specific URLs on specific topics. The integrated strategy also works the other way; online sites can be used to gather contact information. Gather data that allows you to tailor mail campaigns and target messaging.
Looking to level up your mail to digital strategy? Try a PURL (personalized URLs) or even some variable printing that can include specific polling information for the recipient. Increased personalization can lead to increased engagement.
Conclusion
You might not watch the news every day, but, chances are, you do pick up the mail. You're not alone. Direct mail gets directly to voters – day in and day out. Even better, they look at it as they walk from the mailbox to the front door, hold onto it as a resource for voting and even use it as a springboard to research online.
Win with Tension
Learn more about our direct mail services here.
Whether we're talking about direct mail campaigns or political campaigns, experience matters. Tension has been providing winning solutions for customers since Grover Cleveland was President and we're talking about his first term in office! (Here's your presidential trivia for the day: President Cleveland served from 1885 — 1889 and from 1893 — 1897. He's the only U.S. President to serve two non-consecutive terms.) Contact us today to discover how we can help you!
Interested in more?
USPS: Vote by Mail and the Postal Service
The Office of the Inspector General released a report in 2021 that focused on the vote-by-mail process and the challenges for the Postal Service that come with it. Click here to learn more and download the report.