One of the greatest things about the conferences we attend, such as The Bridge and National Postal Forum, is the inside information we learn about trends in our industry. It keeps us up to date, and helps us help our customers who want to know what's new with envelopes.
At this year's NPF, I heard from Cynthia Gray and Beverly Moore of the USPS®. They covered some new, USPS-approved mailpieces1 in their presentation "Growing the Mail Volume by Expanding Letter Mail Design." Below are a few of the approvals2 expected in 2018 for letter-sized mail. As always, check with your Tension Associate and the USPS for the most current information regarding these approvals:
Non-paper Envelopes
Vellum/poly letter-sized mailpieces can qualify for automation pricing on a case-by-case basis as tested by USPS engineers. One design aspect to note: Borders for insertion tolerance have specific requirements, so be sure to follow USPS guidelines. You can let your marketing message shine through a clear envelope before it's even opened, increasing recipient interest and engagement.
Magnetic Mail
Want to "attract" new customers? You can try a creatively designed magnet. The USPS is proposing new guidelines to allow for attached magnets at automated letter prices. While the use of magnets in or on a mailpiece isn't new, it can be a good way to pull in your audience and leave them with a physical reminder of your brand. Size, specification and magnet placement details are particular for this type of mail; in order to qualify for card-type or letter-size automation prices, it's important to follow USPS requirements.
Trail Edge Die-Cut Envelopes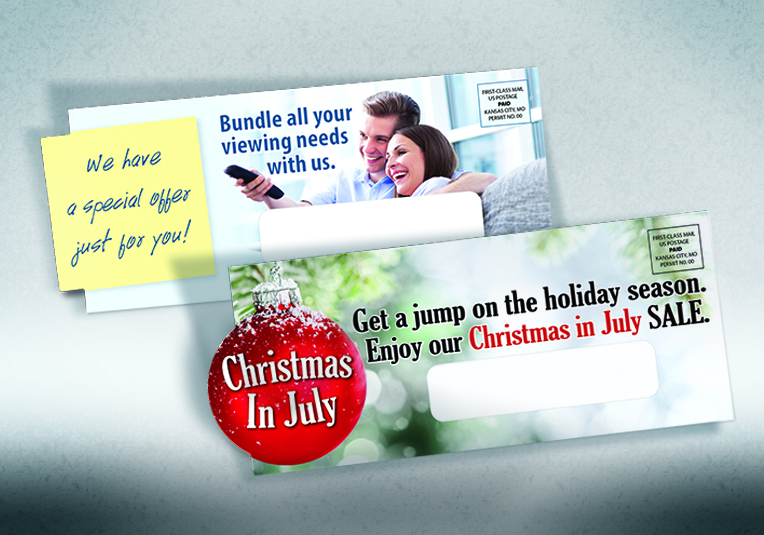 Described as "non-rectangular" letter-sized mailpieces, the new Trailing Edge Die-Cut (TED-C) envelopes lend mailers a unique way to stand out, and offer loads of design potential. These envelopes are measured where the cut outs begin, and they must be on the trailing edge of the envelope. Size-wise, the shape must have less than a 5/8" trailing edge with .3" clearance at the bottom fold and .3" clearance at the top fold to qualify for automation rates.
Tension just announced its Trailing Edge envelopes (also known as Shape-cut or Shape-out envelopes) that feature either an extended rectangle or partial circle. Mailers can incorporate logos, promotional images or even a repositionable sticky note on the shape with this eye-catching envelope that is USPS-approved.
Don't miss out on the latest trends (and shapes) in the mailbox. Contact us to discuss how we can help keep your mail on the leading edge.
1 – These mailpieces are currently part of a Mailers' Technical Advisory Committee (MTAC) workgroup and were presented as upcoming approvals for 2018.
2 – Always work with your Tension Sales Associate to ensure that designs are up to date in order to be USPS-approved.