Reengage with your most sought-after customers.
The USPS® introduced a new promotion for 2023, the Retargeting promotion, which encourages mailers to send personalized First-Class Mail® postcards to those who have recently visited a company's website or app that didn't convert for whatever reason.
USPS Retargeting Promotion
Retargeting is not a new strategy used by marketers. This method of advertising gives marketing mailers a second chance to engage with a potential customer. So how does retargeting work and what does it have to do with direct mail?
What is Retargeting?
Retargeting is a form of online marketing that involves matching a website visitor or app user's IP address to their physical address. This provides mailers an address to mail a targeted message to a potential customer that has already shown interest by visiting their website or using their app. Of course, this allows marketers to reengage with a potential customer that did not convert on their website or app, and send a more personalized message to gain their business. Learn more about this process from Tension's white paper, "Targeting and Lists."
Promotion Registration: July 15, 2023 – November 30, 2023
Promotion Dates: September 1, 2023 – November 30, 2023
Discount: 5%
The only eligible mailpieces for this promotion are postcards, and they must be either of the following:
4.25 x 6" Single Piece First-Class Mail® Postcard
4.25 x 6" Pre-Sort First-Class Mail® Postcard
6 x 9" Pre-Sort First-Class Mail® Postcard
*The USPS is not allowing 6 x 9" single piece postcards for this promotion.
Related Tension Posts and Content
Using a postcard may for every direct mail campaign. For more information, see this post for tips for choosing your mail format between envelopes or postcards. Or, download our white paper, "Envelope vs. Postcard" to learn how, when and why to use each.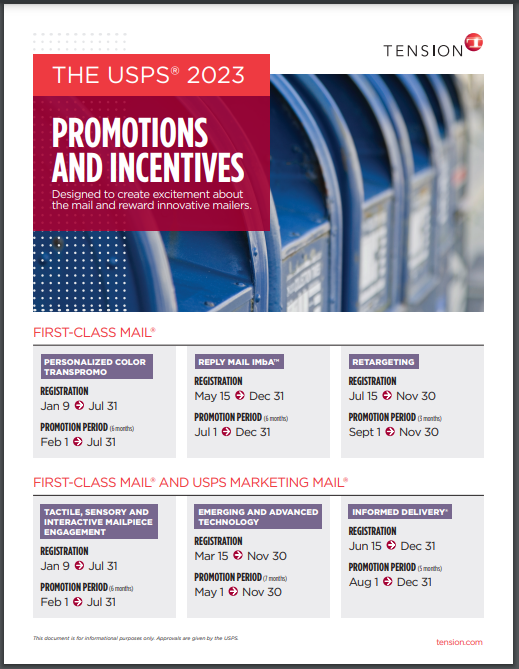 2023 USPS Promotions and Incentives, Simplified
USPS Promotions White Paper
Our white paper takes a deep dive into each promotion, highlighting approved mailpieces, available discounts and more. Click here to download.

Full program requirements are available on USPS' website, click the link here for details. The USPS gives all final approvals and including one of the design elements mentioned above does not automatically qualify you for the promotions.
Contact Tension
The 2023 USPS Retargeting promotion is another way to integrate digital products into your marketing strategy. This promotion can also help you earn mail discounts. Contact us to discuss the right mailpiece for your Retargeting campaign.
*All approvals must come from the USPS. The information presented here is for illustrative purposes only.