Working safer, smarter and more efficiently with Lean.
2023 marks the 16th year of Lean, or Continuous Improvement, at Tension Corporation. Lean is a systematic approach of continuous improvement based on setting standards aimed at eliminating waste throughout an organization. Lean isn't necessarily about big complex changes, but ones that are small. It is about finding opportunities to eliminate waste in the work you perform. To create a Lean mindset and organizational culture, first you must set the expectation that everybody is responsible for removing waste from their own activities as part of their daily job function.
Why We Use Lean at Tension
A Lean approach is woven into the fabric of our organization. We see its benefits daily: It contributes to how we maintain order and safety in our plants, reduces errors in manufacturing, and ensures our customers get the quality products they have come to expect. Additionally, Lean is a win for our customers because resolving our process problems results in fewer errors, improved project lead times, and better overall experiences working with Tension.
Lean Concepts
2 Second Lean
Tension has integrated Lean concepts throughout our organization. A favorite among Tension Associates is 2 Second Lean, where our Associates focus their improvement efforts on fixing what "bugs" them daily, then initiating a "two second" improvement for that item. It entails something small, that saves small amounts of time and eliminates waste in the process. Over time, by making small improvements daily and developing a culture where everyone is engaged in continuous improvement, those small changes begin yielding big value for all involved.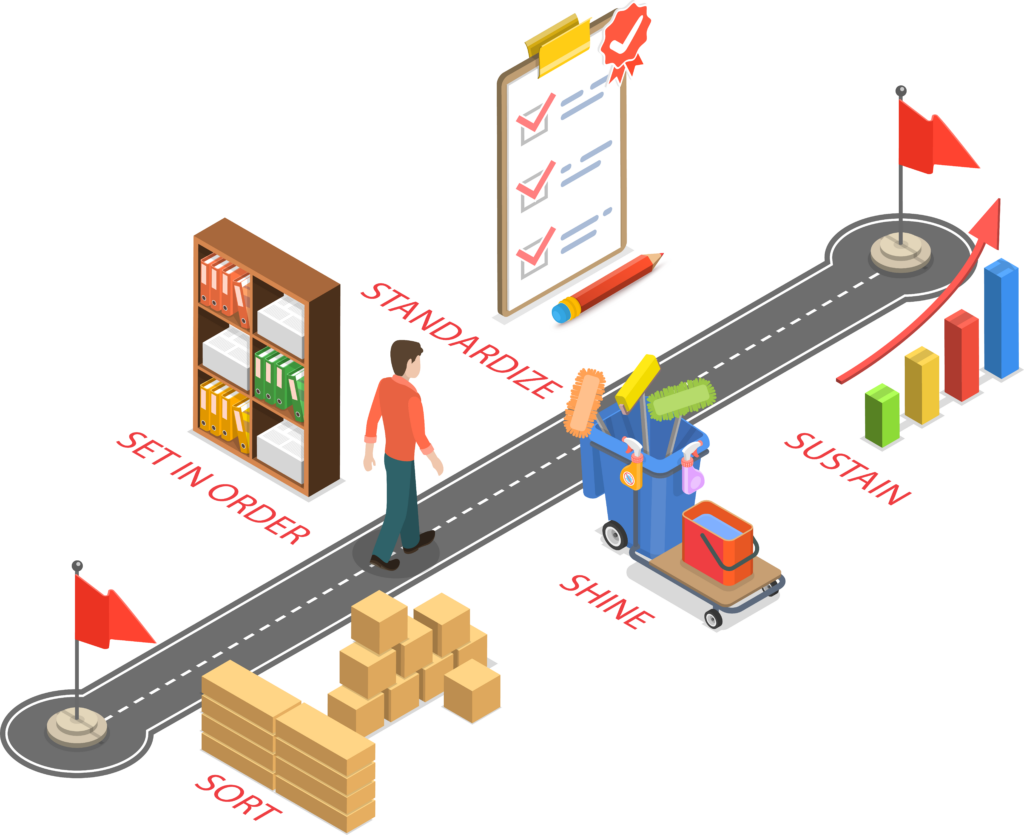 5S Methodology
The 5S methodology creates a system for organizing spaces so work can be performed efficiently and effectively, using just five steps to achieve a tidy and sustainable workplace. 5S stands for Sort, Set in Order (Straighten), Shine, Standardize and Sustain. Avoiding unnecessary interactions, minimizing motions, and turning to best practices are safety habits that can be a good way to save time and reduce workplace injuries.
Visual Factory
Visual Factory is a term used to describe an overall strategy of using visual cues to inform the observer. In a Lean environment, applying Visual Factory to processes reduces time that would otherwise be consumed on conveying information by assigning indicators of information, organization and safety.
Examples of Lean at Tension
Lean Black Belts at Tension
Lean has been implemented throughout Tension with dedicated resources at our plants known as Continuous Improvement Leaders, or Black Belts. Tension's Black Belts are trained to be Lean and dedicate their time to improving our productivity and efficiency.
Lean in Action: Taking the Success of Des Moines to Marysville
After two of our Marysville, Kansas Associates took a trip to our Des Moines plant, they took note of how efficiently machine parts such as panel cutters, patch gummers, and negatives were stored. These three items had always been stored separately in Marysville, and after seeing how these items were organized, they took that knowledge back to Marysville and created a system to better track gummer usage. By sharing ideas across plants, Tension capitalizes on the creativity of our Associates.
Visual Factory in Saint Clair
Tension-Saint Clair uses Visual Factory principles to reduce waste, increase production and prevent risks. By integrating color-coding of parts and tool storage, Tension-Saint Clair has increased their efficiency and reduced time traveled retrieving the tools. Another team was formed to standardize and color-code the control panels on our machines to improve safety.
Get Started with a Tension Expert
Lean is a fundamental part of our internal processes at Tension. Today, it is a driving force behind minimizing waste and maximizing efficiency in our manufacturing processes. Contact one of our experts today to get started on your next project.
A global leader in envelope, printed product, packaging and packaging automation solutions, the Tension Corporation is a privately held and operated company based in Kansas City, Missouri. Tension manufactures billions of envelopes annually and their envelope and printed products division serves a variety of industries, including third-party billing, financial, insurance and direct marketing. The packaging and automation division of Tension provides software, consumables, automation, and service and support for fulfillment to the e-commerce and pharmaceutical industries.