In part one of a new blog series on USPS ConnectTM, Tension Packaging & Automation looks into what the program is and what it means for mailers.
Simplified Package Shipping Solutions from the USPS
Part 1: USPS Connect™
The most trusted brand in America. The largest logistics entity in the nation1. The only carrier that serves every address six to seven days a week. And now with the addition of USPS Connect™, the United States Postal Service can add "affordable, fast local, regional and national deliveries and returns for packages" to its resume.
And, as eCommerce sales are projected to grow to over $1.3 trillion by 20252, USPS Connect is a well-positioned solution to help shippers meet growing consumer demand.
What is USPS Connect?
USPS Connect is a four-part solution designed to help any size of business through local, regional, national delivery and return offerings, branded as USPS Connect Local, USPS Connect Regional, USPS Connect National and USPS Connect Returns. It was developed to meet the evolving package and mail delivery needs for businesses and offers "a suite of affordable solutions that capitalize on the USPS network, new processing equipment and increased operational precision."
What type of solutions for shipping merchants are available through USPS Connect? Overnight and next day delivery options, lightweight shipping services, free package pickup and end-to-end package tracking to name a few. By leveraging their last-mile delivery network, USPS Connect can provide affordable and reliable package delivery solutions to shippers (and their customers) of all sizes.
Here's a look at specific services offered through each USPS Connect solution: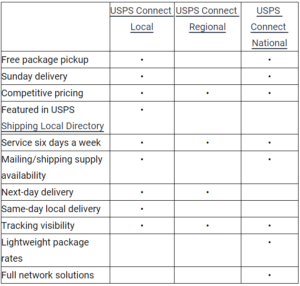 USPS Connect™ Returns
According to a recent survey, 97% of customers agree that the way retailers handle returns influences whether they will purchase from that retailer again in the future. Simply put: Consumers want simple and efficient returns as part of their purchase journey.
USPS Connect Returns aims to provide just that for consumers. It offers convenient drop-off locations and free package pickup, the ability for customers to return all or part of their order and convenient label options. Through the USPS Label Broker® feature, businesses can provide a return label or return QR Code® directly to the customer, which they can either print or have the return label printed at their nearest participating Post Office.
Simple Shipping Solutions for All
What do all the benefits of USPS Connect mean for consumers? Convenience by way of the vast USPS network through free package pickup or package drop options at more than 31,000 Post Office™ locations and 154,000-plus collection boxes.
Likewise, eCommerce retailers can benefit from USPS Connect through the vast USPS network, as well. Data and package visibility through sophisticated tracking provides detailed package locations to aid with inventory management of returned items.
Contact Tension
Tension Corporation is a global leader in envelope, packaging and print marketing products, as well as packaging and automation solutions for the pharmaceutical prescription fulfillment and eCommerce markets. Contact us to discuss how our innovative products and expert shipping solutions from the USPS can benefit your organization.
Sources:
1 – National Postal Forum presentation, "USPS Connect," by Steve Jarboe and Devin Qualls. May 2022.
2 – "United States: Retail E-Commerce Revenue 2017-2025," Statista, Jan. 3, 2022.