At this year's National Postal Forum in San Antonio, Postmaster General Megan Brennan posed an interesting question to the audience in her keynote address.
"What's the largest, data-driven network that connects every household in America?" (Hint: It's not the internet.)
The answer – the postal network – wasn't surprising, given it was the Postmaster General posing the question. It was her vision for mail that was the real attention-getter.
Mail Reimagined
The inclusion of mail in an integrated marketing campaign, one that touches prospects through multiple mediums, is something smart marketers have been doing for decades. And while it's become increasingly easy to buy and sell in our digital consumer environment, it's become harder to create customer loyalty.
Mail has emerged beyond a simple campaign requirement; it's evolved as the mechanism needed to reach customers, bridge them to their digital buying experiences and act as the "ultimate closer" to drive conversion.
The USPS delivers more mail and more packages than any other entity in America's largest, data-driven network. And they also hold more customer insight than any other delivery network in part thanks to their platforms, Informed Visibility® and Informed Delivery®, that together could pave the way for the future of mail.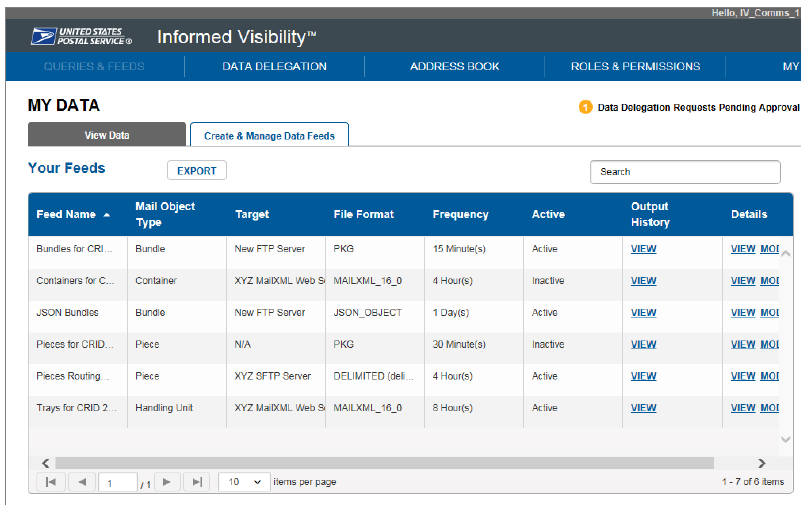 Informed Visibility®
In the simplest terms, Informed Visibility® is a mail tracking platform designed for mailers. It summarizes a digital reflection of real-time data from the Intelligent Mail barcode (IMb), giving businesses the ability to model customer behavior, build responsive integrated marketing campaigns and drive process improvements.
Companies who use Informed Visibility® can use data in the IMb to perform critical business functions – IMb Tracing™ can help companies schedule call center staffing according to when call volume is highest as opposed to when the mailpiece was delivered.
It can also help amplify up-sell moments by triggering a digital message the day the mailpiece is set to arrive. Mail is strong as a stand-alone marketing piece, yet when combined with digital, it lifts engagement and increases the odds for a sale by nine times. Think about the persuasion power behind a "coincidental" buying signal, sourced from Informed Visibility® intel.
Informed Delivery®
Informed Delivery® converts the mailbox into a marketer's launchpad. It uses scanned images of the mail and turns them into a digital email preview where marketers can opt for color scans or add links to products and promotions. Informed Delivery® has been making a splash since its nationwide introduction last year – and is still going strong with a current user base of 10 million, a 73% open rate (industry average is 20%), a 9% click-through rate (3 times the 3% industry average) and, perhaps most impressive, 64% of users of those 10 million respond to or act on promotions each month.
Cue the cartoonish image of yourself with dollar-sign eyeballs. And while you're at it, enjoy some of the $28 million in digital impressions Informed Delivery® provides, because they're given to businesses as a no-cost, value-add.
As Informed Delivery® continues to grow (to a projected 40 million users by 2020), the USPS aims to roll it out to the packaging industry, too. Companies could send links for product installation videos along with a delivery confirmation emails, which could reduce customer service calls and more importantly, boost the customer experience.
Tension has been connecting businesses with their customers through the mail for decades, and we look forward to the innovations from USPS and others in our industry. Contact us today to discuss how the "ultimate closer" can improve your business and customer experiences.