When it comes to capturing a recipients attention, personalization and bold use of color can be used to drive response. Billing and statement mailers know that they can also use color and personalization inside the envelope on onserts, which are invoices or statements that feature a marketing message within the content.
On January 9, registration opened for the USPS® Personalized Color Transpromo promotion. This promotion offers mailers who incorporate personalization and color within their statements a 3% mail discount. An additional discount opportunity is available for those that meet the requirements under the 3% discount tier, and also provide recipients with a reply mechanism.The promotion runs from February 1 to July 31.
Promotion Registration: January 9, 2023 – July 31, 2023
Promotion Dates: February 1, 2023 – July 31, 2023
Discount: 3% of eligible postage for First-Class Mail® presort and automation letters. This includes bills, statements, or account summaries. 4% of eligible mailpieces that also provide a reply mechanism via Business Reply Mail or Courtesy Reply Mail.
Promotional Details
The Personalized Color Transpromo promotion rewards mailers who incorporate color into their transactional mail. This year an additional discount tier has been added for eligible mailpieces.
New to 2023
Mailers have an opportunity to earn a 3% or 4% discount on approved mailpieces during this year's promotion. The 3% discount is deducted from the total postage paid at the time of mailing for the qualifying mailpieces. If mailers provide recipients with a BRM or CRM, then they could qualify for a 4% discount.
To be eligible for the Personalized Color Transpromo promotion the message must include a full color marketing message or visualization of account data. The mailpiece must have two or more colors (no black, white or grayscale) within the marketing message. Additionally, the message must be personalized to the recipient.
Non-Eligible Consumer Messaging: Excluded messaging includes some paperless messages, messaging on the outside of the envelope and some other uses of color. More details on non-eligible messaging can be found here.
Required Message Placement
The marketing message or data visualization must be printed on the bill/statement itself as an "onsert," which is printed within the content of the bill/statement. This differs from an insert, which is included inside an envelope. Inserts are not part of this promotion.
Related Tension Products
Utility, insurance, credit card and banking statement mailers can all benefit from this promotion. You can pair personalized, color messaging on statements with popular envelope sizes for transactional mail, such as our #10 envelopes or 6×9 envelopes.
2023 USPS Promotions and Incentives Updates from Tension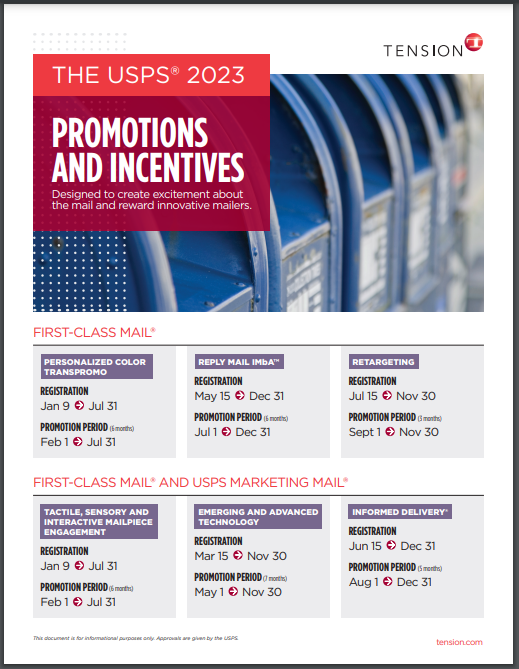 Sign up for our updates here. You can also find details on the USPS 2023 Promotions and Incentives on our website.
2023 USPS Promotions Information Sheet
Do you need a quick overview of the promotions and important dates for each? Click the image to the right to download our easy to read guide.
Program Requirements for the USPS 2023 Personalized Color Transpromo Promotion
Be sure to check full program requirements here*. The USPS gives all final approvals and including one of the design elements mentioned above does not automatically qualify you for the promotions. You can also consult the USPS for full details on the Personalized Color Transpromo promotion at MSSC@USPS.gov.
Contact Tension
Add color, personalization and potential savings to your statement mailings with the USPS 2023 Personalized Color Transpromo promotion. A Tension Sales expert can help you explore how to incorporate it in your next mailing. Contact us to get started today.
*All approvals must come from the USPS. The information presented here is for illustrative purposes only.