Have you heard about the United States Postal Service program Informed Delivery? Once you enroll in the program, the USPS® sends an email every day showing the letter-sized mailpieces that will be delivered to your mailbox later that day. Most of the images are in black and white, because that is the type of scanner that's used to sort your mail. But there is a process coming where the mailer can supply a color image of the mail to the post office, and when that mail is on its way to you, the USPS will replace the black and white scan with the color image.
Informed Delivery's Nationwide Roll-out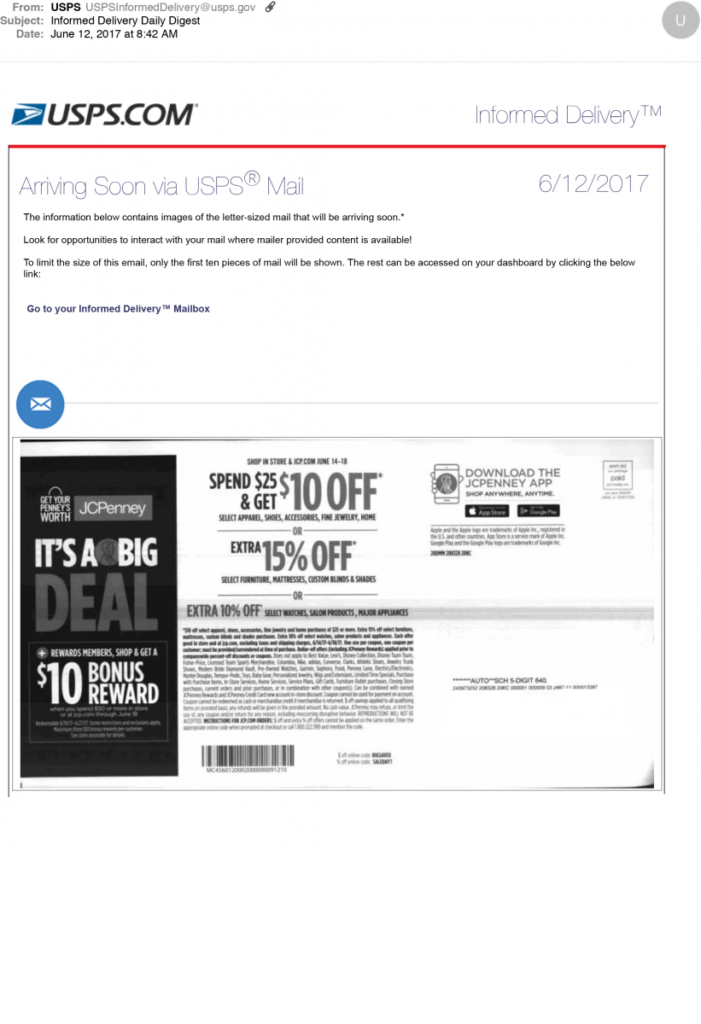 The Postal Service started testing Informed Delivery about a year ago in Virginia, and then added more test users in New York about six months later. As of early June, it is now available to most areas in the United States. Numbers made available at the 2017 National Postal Forum show that as of mid-May, the were 2.1 million users in 1.9 million households, and 12 million mailpieces are scanned every day to be included. Some of the other statistics provided include; 75% of users look at the Informed Delivery email every day, 91% of users are very satisfied with the program and 9 out of 10 have told family and friends about it.
Security Measures for Informed Delivery
Initially, I was concerned about the security of my mail (and in this case email). But as I signed up, I learned that the USPS uses a third-party security group to provide verification questions to prove you live at the address provided. When a change of address is entered for any address, Informed Delivery is stopped and a letter is sent to the new and old address explaining that all users will need to sign up again. Having gone through the process, I now feel it is very secure. I have also been involved in multiple conversations where we have asked the USPS executives what they will do to make sure the emails don't become a replacement for mail. They have assured us that only a mailpiece can trigger the scan, and without a scan there is no Informed Delivery. I believe what they say, but don't worry – we'll be there to watch the future changes that might occur.
Would you like to join the 2.1 million Americans and experience Informed Delivery for yourself? Download the Informed Delivery App from the App Store or Google Play. You can also sign up at informeddelivery.usps.com.