In the first quarter of 2022, the average time to deliver a piece of mail or package was 2.7 days, according to the United States Postal Service (USPS). In some cases, it can take much longer.
But delivery speed isn't up to chance. It depends on three factors:
Delivery option
Mailing destination
Type of mail piece
Of course, things like vehicle breakdowns, system malfunctions, holiday backlogs and inclement weather, can impact speeds too, but those are relatively rare. So, let's unpack how the main factors affect your mailing and what to do to stay on schedule.
Choose the Correct USPS Delivery Option
The USPS offers six options. Time estimates and pricing for each are listed online:
Priority Mail Express®: Next day to 2 days
Priority Mail®: 1-3 days
USPS Retail Ground®: 2-8 days
Media Mail®: 2-8 days
First-Class Mail®: 1-5 days
First-Class Package Service®: 2-5 days
As you can see, these estimates are not precise, which can be problematic—there's a big difference between two and eight days. In a world where recipients want their mail faster and vendors want to reach customers sooner, transparency is key. Luckily, there are online tools that all but eliminate the guesswork.
A USPS Tool Offering Precision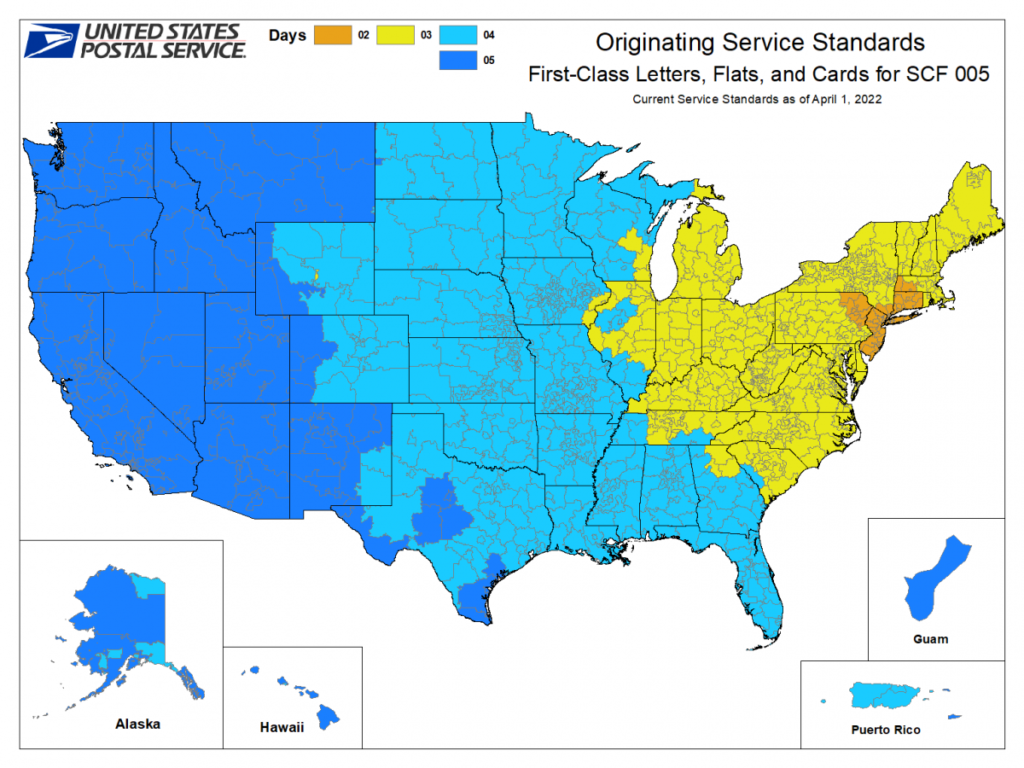 Using the USPS Service Standards Map, you can hone in on more specific delivery times as you plan mailings. By selecting the originating or final destination zip code and mail class, the map responds to your inputs, and you get a more precise timeline. Click the image to the right to view the interactive map from the USPS.
A Few More Tips for Major Mailers:
Delivery standards vary by region. Select fulfillment center(s) best able to meet your needs and budget.
Following the Wayfair Act, you may be subject to significant sales tax, depending on where and how much you're mailing. This blog post offers useful insights.
Informed Delivery is a helpful tool that allows recipients to track their incoming mail. Our previous post explains how it offers another valuable touchpoint for mailers.

For more helpful mailing tips, check out other resources on our blog.
Tension Corporation is a global leader in envelope products, packaging and packaging automation solutions. It is a privately held and operated, international company based in Kansas City, Mo. Tension manufactures billions of envelopes annually and their envelope division serves a variety of industries, including financial, insurance and direct marketing, plus they work directly with third-party providers. The packaging and automation division of Tension provides software, consumables, automation and service and support for fulfillment to the e-commerce and pharmaceutical industries.