Few would call this a dull time at the USPS®. The bipartisan support of the Postal Service Reform Act of 2022, ongoing organizational momentum supporting our industry's mission, and NPF planning are just a few of the activities keeping USPS front and center.
Postal Service Reform Act of 2022
With the passage of the Postal Service Reform Act of 2022, Congress has approved the first modernization of the Postal Service™ in nearly two decades. This bill is a signature accomplishment—its importance in stabilizing the future of the Postal Service cannot be understated. Among its major accomplishments, the bill includes:
Eliminating the requirement that the Postal Service prefund retiree health care expenses
Requiring postal retirees to enroll in Medicare
Implementing an official mandate of six days of service per week
Requiring the Postal Service to develop a service performance dashboard
Many of you, particularly those in the mailing community, have voiced your support for the USPS to your members of Congress throughout the past several years. Meaningful reform takes time and Tension is grateful for your patience and perseverance. There is certainly still more work to be done to secure a stronger future for our industry, but getting this bill passed is a big accomplishment.
Industry groups helped drive some of these efforts. Keep Us Posted is a recently created organization committed to furthering the mission of the Postal Service. Tension, through its participation in the EMA (formerly the Envelope Manufacturers Association), is engaged with Keep Us Posted.
Keep Us Posted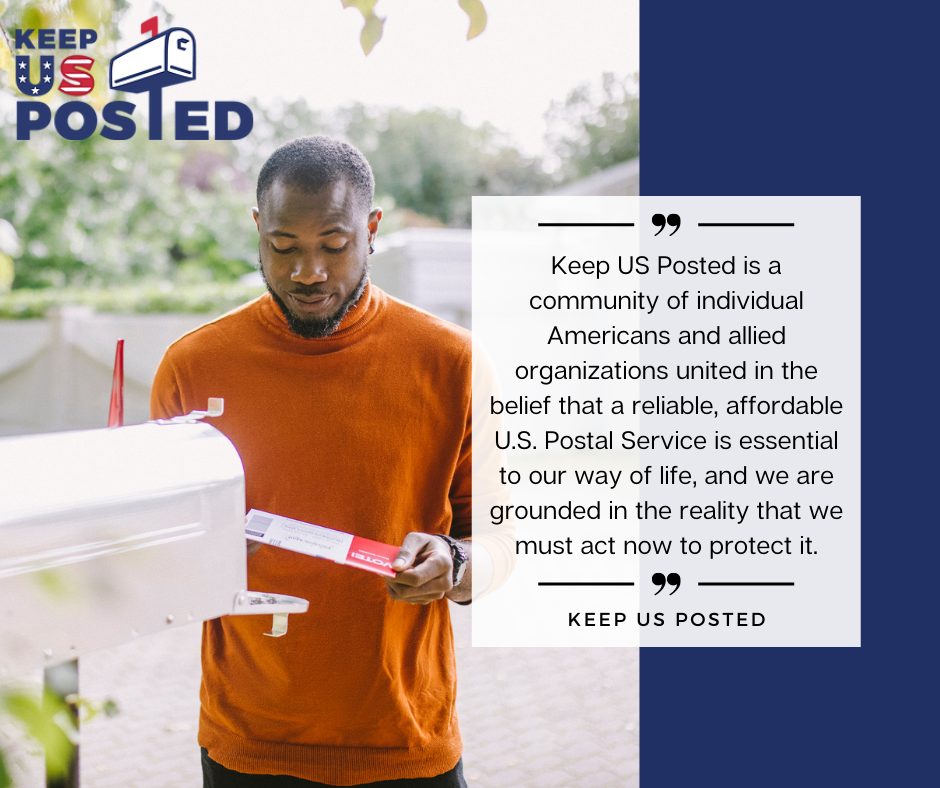 On Oct. 7, 2021, a new campaign called "Keep US Posted" was launched. Its goal is to engage Americans in advocating for postal policy so that lawmakers are aware of the importance of the USPS to Americans. The mail system connects our country by serving more than 160 million delivery points and provides critical lifelines for those who live in rural areas. Appreciation for the USPS and its employees became especially evident during the COVID-19 pandemic.
"Keep US Posted is a community of individual Americans and allied organizations united in the belief that a reliable, affordable U.S. Postal Service is essential to our way of life, and we are grounded in the reality that we must act now to protect it."
The Keep Us Posted website has an area where you can sign up to get notifications when Congress is taking action that affects the USPS, helping you stay up to date on important issues. You can learn more and sign up at https://www.keepusposted.org/
Mailin' It! – The Official USPS Podcast
The USPS is now delivering through the airwaves! Mailin' It!, the official podcast of the United States Postal Service, promises to "take you inside a thoroughly American institution, exploring the rich history of the USPS, going behind-the scenes of its present innovations, and discussing its dynamic future with organization and industry leaders."
We may be biased, but one of our favorite episodes covers the National Postal Forum, or NPF. Tension is proud to be exhibiting at this year's NPF, continuing a decades-long uninterrupted participation.
Tension Attending NPF In Person in 2022
The NPF works alongside the USPS for their signature educational, networking and training event. After two years as a virtual show, this year it will return in person in Phoenix, Arizona starting May 15. This year's workshop tracks will include:
Delivering Innovative Technology
Operations: Fulfilling the Needs of Your Customers
eCommerce: Steps to Shipping Success
Pushing the Envelope: Why Mail Works
Leadership & Professional Development: Characteristics of Success
Come See Us at NPF
Tension looks forward to being back at an in-person event and seeing you at NPF. Find us in Booth 428!