The amount of information and access we have at our fingertips is staggering. With the press of a button, we can scan a QR code on a mailpiece advertisement, fully research and even purchase that product if we choose to do so.
These ads can seem coincidental and convenient. Yet in our information age, there are likely analytics, such as those driven by Informed Visibility® Mail Tracking & Reporting (IV-MTR) from the USPS®, at work behind the scenes.
What is Informed Visibility?
Informed Visibility Mail Tracking & Report from the USPS is a free tracking service that provides mailers notifications as each mailpiece, bundle, tray, sack, and pallet is processed and scanned throughout the postal network. It lends the digital benefits of data to a powerful, physical piece of communication.
How Does Informed Visibility Work?
Informed Visibility is available through Full Service Intelligent Mail® on First-Class Mail®, periodicals and USPS Marketing Mail®. In order to qualify for Full Service Intelligent Mail, you need to submit the mailing to the USPS using electronic documentation (i.e. Postal Wizard) and have a unique Intelligent Mail barcode (IMb).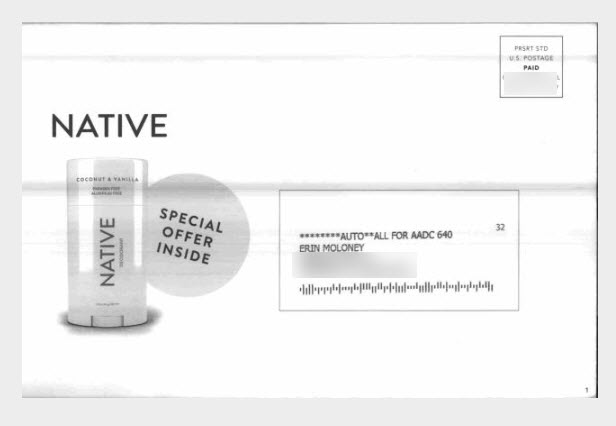 How Can Informed Visibility and Mail Tracking Benefit My Business?
Knowing where a mailpiece is in the mail stream can help businesses manage marketing efforts based on real-time information.
Imagine you receive notification in your Informed Delivery account that this direct mailpiece from Native is set to arrive in your mailbox. Although you've purchased natural deodorant products in the past, you don't know much about the Native brand yet. Your curiosity is piqued, especially after getting the physical mailpiece from the mailbox and opening it to reveal the "special offer inside": a free travel-sized sample of Native, redeemable with a website code. Later that afternoon, you see a brightly colored Facebook ad for what first appears to be a latte. On second glance, it's pumpkin spice scented Native deodorant made to look like the popular fall drink, the Pumpkin Spice Latte. At this point, you are engaged enough to click on the Facebook ad and see what this brand is all about.
With insights from Informed Visibility, Native could orchestrate marketing
events along the customer journey based on when the digital version of the mailpiece was viewed, when the mailpiece was delivered, if the offer for the free sample was redeemed and when the Facebook ad was viewed and clicked. And because data in Informed Visibility is in real-time, the execution of subsequent marketing messages are more relevant and top-of-mind for the consumer on the receiving end.
How Do I Sign Up for Informed Visibility?
Register for a Business Customer Gateway (BCG) account: You will set up your company identifier or Customer Registration ID (CRID) when setting up your Business Customer Gateway Account.
Add the IV-MTR service in the BCG: The first person who sets up the IV-MTR service in Business Customer Gateway will become the Business Service Administrator (BSA) for your organization, and will act as your group's point person for IV-MTR.
Enter your authorization code. This must be done for each CRID. If you have more than one CRID, you'll need your BSA to set up Informed Visibility for your CRID.
Mailers can sign up for Informed Visibility through the Business Customer Gateway.
Looking for more resources on Informed Visibility? Check out this site from the USPS or contact a Tension expert to discuss how a well-crafted mailpiece can enhance your next marketing campaign.