Informed Delivery got top billing at this year's National Postal Forum (NPF). The USPS®, in typical fashion, put on an excellent show that was both informative and fun.
Informed Delivery was piloted earlier this year in select markets and, as of May 22, is now available across the country. At the time of this writing, 1.9 million households have enrolled. This number is growing by at least ten thousand every day1.
The concept is simple: Each day, customers receive an email in the morning letting them know what will be in your mailbox that afternoon. There is a grey-scale image of each letter, plus additional images from mailers that can include a representative color image of the mailing, and supplemental content like an interactive image and website link.
Why it's Great for Direct Mail
Good marketers will sing the praises of integrated marketing: one message, multiple channels. Informed Delivery delivers on this promise – the customer sees the same direct mail image in two forms, digital and physical, within a short time period.
Informed Delivery offers additional opportunities to showcase well-designed mailpieces in an innovative, digital way. – USPS promotional material
With open rates as high as 88%2 and positive praise from users3, it shows tremendous promise.
Bridging the Gap: Is the USPS Speaking to Marketers?
I believe that through Informed Delivery, the USPS has found a clever and meaningful way to connect digital and physical mediums and truly enhance the value of your direct mail.
But now it's time for some tough love, USPS.
I've visited your website about Informed Delivery, here. And I gotta tell you, you won't win over marketers if you write these handbooks like you do your Domestic Mail Manual (DMM). Your average marketer will likely tune out. And while many Brand Managers can get on board with the benefits of Informed Delivery that you've outlined above, they are likely unaware of MIDs, CRIDs, IMb®, Business Customer Gateway and other things that are critical to your Informed Delivery program. Present these concepts without context or explanation and you run the risk of losing their interest.
So, What's Next?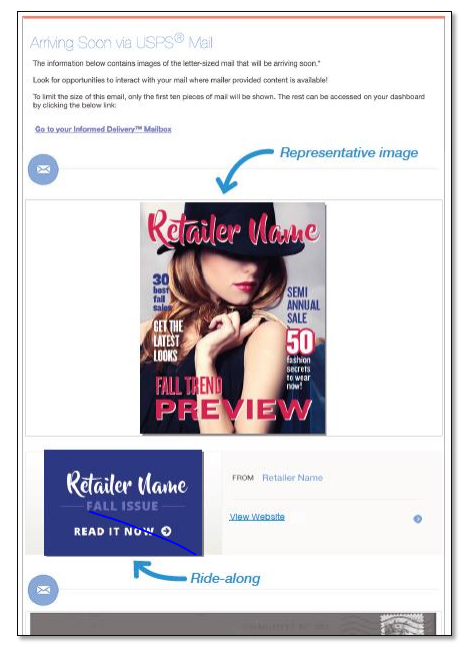 Marketers will learn about Informed Delivery and become curious about how to integrate it into their marketing mix. To keep their interest, I'd like to suggest the USPS looks at the following opportunities to best engage marketers:
Is your website marketer friendly? Marketers love talking about the UX, or user experience. Have you created a website with the marketer's experience in mind? I would suggest that a marketer may visit your website without a clear idea of what to do next.
Do you have easy-to-understand definitions of your common acronyms? The decision maker within marketing may not be familiar with some of the common terms like MIDs, CRIDs, and IMbs, and could look at these technical words as a barrier to deciding to move forward with Informed Delivery.
Are marketers able to review the results without having a background in the ins and outs of Full Service mail and all the complex components?
Are you staying consistent? For example, at NPF I learned that the images in a customer's email were called "Representative" and "Supplemental." Here, online, you call them "Representative" and "Ride Along." It leaves the reader wondering what they've missed, ultimately adding unnecessary confusion.

Is it a free service? Either you are missing a major selling point, or burying some hidden costs.
I look forward to increased rollout of Informed Delivery and the enhancement of the Mail Moment.
1Information detailed during classroom session at NPF.
2Found in The Data to Support Informed Delivery, Market Research and Consumer Response presentation.
3"What Consumers are Saying"
Images from https://www.usps.com/business/informed-delivery.htm?utm_source=informeddelivery&utm_campaign=informed-delivery-mailers-spring17