On March 17, 2018, Tension Corporation proudly celebrated 132 years in business. Tension is a fourth-generation-led, family-owned organization with seven US-based plants and an international presence, with locations in Taiwan and China.
We are also a company rich in history. Tenured Associates who've worked here for 35, 40, even 50 years share wonderful stories of days gone by. Other tales are told through old products, machinery, photographs – and from the walls of the building itself. (Would you believe railcars used to enter the first floor of our headquarters to deliver coal shipments for heat?)
The historical question we're often asked is, "How did Tension get its name?" Contrary to what some jokingly assume, we do not represent a company of high-strung, intense individuals. Our name stems from a pioneering envelope company in New York and one of the company's envelopes, popular in the late 1800s and early 1900s. The "tension tie" envelopes, originally patented by Henry Trenchard, Jr., featured a closure with two tubular rivets and a cord that wraps around them to secure an envelope shut. Trenchard believed it was the force or "tension" from the cord wrapping the two rivets together that functioned to hold contents inside the envelope.
This picture shows a tension tie envelope made by Tension Envelope Company in Brooklyn, New York. It was postdated in New York on June 10, 1899, and the copy details how this "new patent envelope" was manufactured for the "mailing of dry goods, carpets, silks, trimmings, photographs, catalogues and all other fourth-class materials."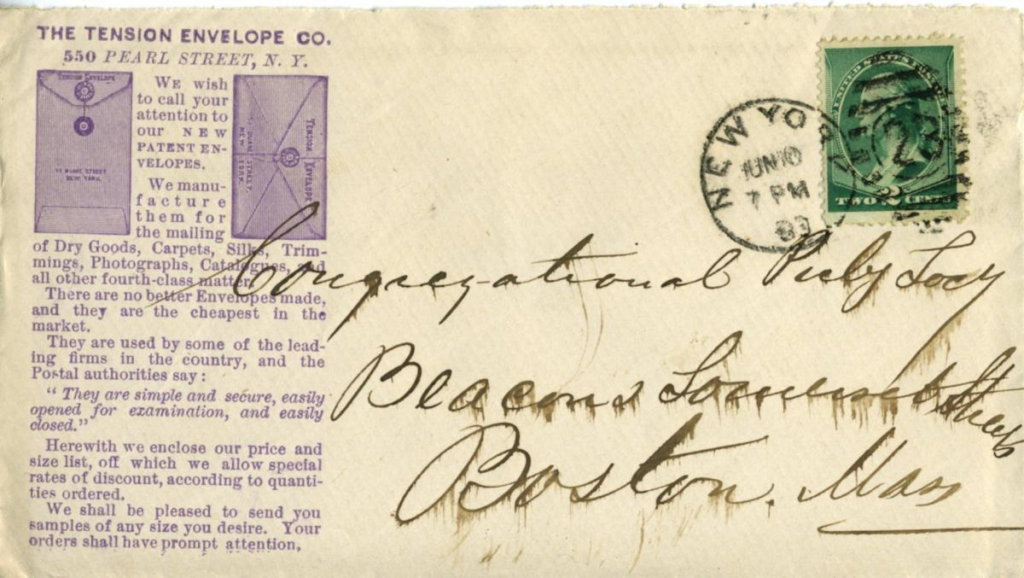 When Trenchard's patent expired, he contacted E.B. Berkowitz, CEO of Berkowitz & Co. Envelope (our first company name reflected the identity of founder William J Berkowitz) regarding the purchase of Tension Envelope Company, which was finalized in 1937. Then, in 1944, building on the popularity of the "tension tie" envelope, Berkowitz Envelope officially changed its name to Tension Envelope Corporation. In 2011, Tension rebranded itself from Tension Envelope Corporation to Tension Corporation, reflecting its expanding presence in packaging and automation as well as its increasing footprint in international operations.
So it's a simple question with a long and winding (just like the tension tie!) answer. Tension Corporation, established in 1886 in Kansas City, Mo., got its name from Tension Envelope Company, established in 1885 in Brooklyn, N.Y., and the popularity of the tension tie closure. Tension Corporation is honored to have provided innovative solutions for our customers for generations, and is committed to expanding upon this foundation for generations to come. Contact us today to learn more about how our 132 years of expertise can boost your mail campaign.