"Envelope Basics: Paper" is part of an occasional series titled "Envelope Basics" that provides an in-depth look at all-things envelopes – elements, measurements, ordering tips and more*.
A variety of papers are used during the construction of an envelope. The envelope's use will determine what type of paper works best.
It's important to know the different types of paper available and how their weights and grades relate to your campaign.
How an Envelope is Made
Have you ever wondered how a Tension envelope is made? Every envelope we make can make a difference. Whether it's a billing statement or a direct mailpiece, we ensure each envelope is crafted with our unwavering commitment to quality, innovation and excellence. Watch our video on how an envelope is made at Tension Corporation.
Envelope Weight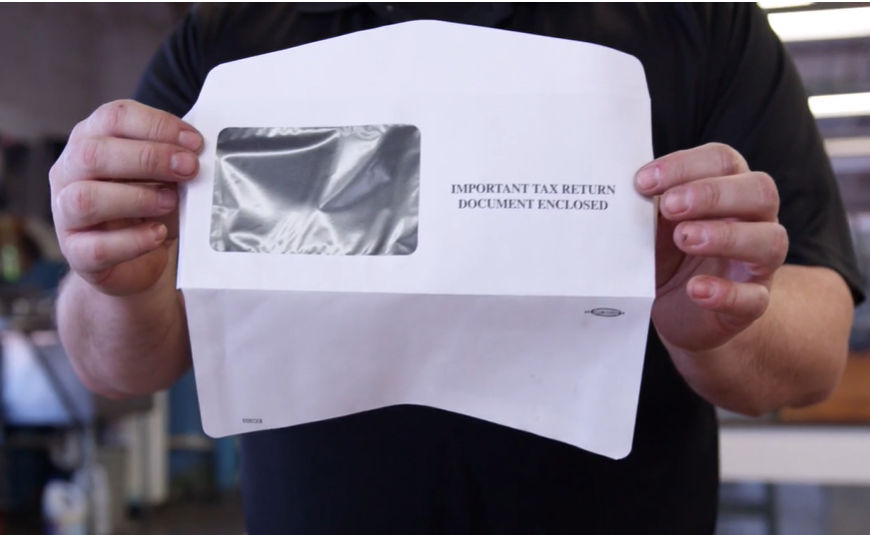 How Much Does a Typical Envelope Weigh?
The most common type of envelope, the #10 envelope, weighs about 6.75 grams when made with 20# paper.

What is Basis Weight and How is It Calculated?
Basis weight, sometimes referred to as substance weight, describes the collective weight of the fibers that make up the paper, calculated as the weight of 500 17" x 22" sheets. So an envelope made from 20# paper represents the weight of 500 17" x 22" sheets of that paper and not the 6.75 gram #10 envelope itself.
Weighing Your Paper Options
In 2016, the USPS® changed the minimum paper basis weight for automation mailings to 50 pounds or equivalent. If you are new to the mailing industry, this may sound like a different language. If you are a mailing industry veteran, you know this requirement means using at least 20# wove paper to qualify for automation rates.
Weighing Paper Caliper
Caliper is another way to determine basis weight. It's the measurement of the thickness or caliper of the paper and corresponds with basis weights:
| | |
| --- | --- |
| SUBSTANCE WEIGHT | NOMINAL CALIPER (mils) |
| 20 | 4.2 – 4.4 |
| 22 | 4.5 – 4.7 |
| 24 | 4.8 – 5.1 |
| 28 | 5.4 – 5.7 |
There are six main types of paper grades used in envelope production: Wove, Surfaced Enhanced White Wove, Kraft, Recycled, Specialty, and Tear-resistant.
Wove – Wove has short fibers, prints well, has a smooth appearance, and is an economical option. It's available in many weights and colors, and in its original form is known as Bright White paper (with a brightness level of 92). This is a popular paper for statement mailers and direct mail alike.
Surfaced Enhanced White Wove – this paper is often referred to as calendarized paper, which is used with offset lithographic printing. Surfaced enhanced white wove is very smooth and ideal for heavy ink designs.
Kraft – Kraft paper is strong, has longer fibers than wove and is commonly seen in brown stock. However, kraft paper doesn't print well due to its long fibers and would not be ideal for complex graphics or 4-color ink processes.
Recycled – looking to create a green envelope? Using recycled papers for your envelopes is a great way to improve your sustainability. Most commonly, recycled papers used in envelope production are made up of 10 percent to 30 percent post-consumer content.
Specialty – specialty papers are available in many colors, finishes, textures, and weights. They are ideal for direct mail envelopes due to their intriguing features, yet can come at a higher price tag.
Tear-resistant – this paper is almost indestructible and won't tear under typical applications. It is also often water and moisture resistant. Tyvek and Protec envelopes are made from tear-resistant paper.
Download Our Guide
Envelope Basics is a complete guide that details everything you need to select, measure and order the right envelope for your mail campaign.
Whether you're a seasoned mailer or new to the mail industry, Envelope Basics includes helpful tips for your business or organization. Download your copy of Envelope Basics here.
The paper you choose could help your mail succeed. Contact us today to talk about which paper options are right for you.
*This blog is intended for informational purposes only. Exact envelope and/or print specifications should be discussed in detail with your Sales Representative.