In our last post, we looked at how mailers can get started with Full-Service Intelligent® Mail. Now, let's look at how mailers can comply with Full-Service mail requirements in order to qualify for the postal discounts offered.
Full-Service Intelligent Mail Compliance
First, it's important to use an appropriate Intelligent Mail® barcode (IMb) on your mailpiece. Here's a breakdown of the correct IMbs to use by mailpiece type:
Postcards, letters and flats – Intelligent Mail barcode (IMb).
Trays and sacks – Intelligent Mail tray barcode (IMtb).
Placards for containers (pallets) – Intelligent Mail container barcode (IMcb).
Then, mailers are required to submit postage statements and mailing documentation to the PostalOne!® System using an approved electronic method.
Mailers must also electronically schedule the mailing to be accepted and processed by making an appointment through the Facility Access and Shipment Tracking (FAST) system.
Last, mailers must comply with Full-Service mail quality verifications. The Mailer Scorecard is a reporting system that provides mailers with color-coded monthly reports of their Full-Service Intelligent Mail compliance.
How Do I Manage Our Full-Service Intelligent Mail?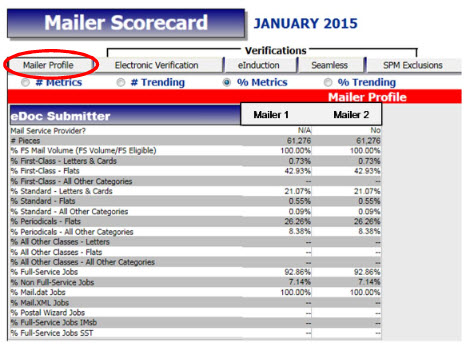 In-house or Outsource
Remember, how you manage your Full-Service Intelligent Mail will depend on resources, both staffing and budgetary. Some organizations invest in assets such as personnel, training, printers and software that enable them to manage Full-Service Intelligent mailings in-house. Others outsource some or all of their Full-Service Intelligent mailings to vendors such as presorters and software providers.
Mail Service Providers
Certified Mail Service Providers (MSP) can also assist your organization with Full-Service Intelligent Mail. Different Mail Service Providers specialize in different aspects of mailings, ranging from presorting to lists to printing and more. Make sure to discuss your strategy and find the appropriate MSP for your needs.
By adhering to USPS requirements for Full-Service Intelligent Mail, you can secure the best postal discounts available for your business or organization. Tension Sales experts are Certified Postal Partners and familiar with USPS requirements – contact us to discuss how we can help!
Disclaimer: The information presented here is for informational purposes only. All approvals must come from the USPS®.