In today's increasingly digital world, the average consumer is exposed to between 4,000 and 10,000 brand messages a day.1 In this oversaturated landscape, marketers must cut through the digital clutter to connect with their customers in an impactful way. Informed Delivery® from the United States Postal Service® (USPS®) does exactly that: it creates an omni-channel experience by incorporating digital elements with a physical mailing to make your message stand out.
How Does It Work?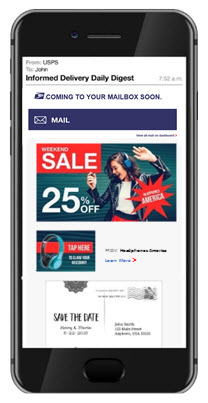 Informed Delivery is a free feature that allows consumers to digitally preview their household mail and manage packages arriving soon. Users can view these notifications in a daily digest email, on an online dashboard, or on the mobile app. Informed Delivery provides users with the convenience of knowing what to expect in their mailbox and the ability to plan their day accordingly – all from their mobile device. In a 2018 survey of users, 93% of respondents stated that they would recommend Informed Delivery to their friends, family, or colleagues.2
Adding Value with Informed Delivery
Informed Delivery has an average email open rate that is three to four times the industry average, creating a unique opportunity for marketers to connect with this highly engaged user base. Marketers can conduct an "Informed Delivery interactive campaign" by providing colorful, interactive content in the user's daily digest. Campaigns generate multiple impressions from a single mailpiece, giving the user the opportunity to respond to a strong call-to-action. This message is reinforced in the subsequent mail moment™ when the user opens their mailbox. At the end of the campaign, USPS provides mailers access to reports on the campaign's performance, such as the email open rate and click-through rate.
Learn More
Informed Delivery creates an opportunity for mailers to build anticipation by adding digital elements to their direct mail campaigns. USPS has several resources available to support mailers as they get started with Informed Delivery. Learn more about Informed Delivery by visiting the Informed Delivery for Business Mailers website. For additional questions about how to conduct an interactive campaign, please email USPSInformedDeliveryCampaigns@USPS.gov or call 1-877-329-7206.
Sources
1 – "Finding Brand Success In The Digital World" 2017, Forbes Media LLC.
2 – Informed Delivery November 2018 – Aggregated User Survey Results from 16,290 Respondents in 8,430 ZIP Code™ locations.